A couple of weeks ago, when I was talking about the D500 again, I started to develop the idea that we photographers should be demanding more from the companies the make our cameras. At that time I was just thinking about quality standards. That got me thinking. Better quality is great, but you still need to understand how the camera behaves to use it optimally.
When digital sensors replaced film, the cameras became more than just a vessel to hold the image forming material. They literally became the film too. Yet when this transition happened, we lost information that we previously had at our disposal too.
If you've never shot film, or at least seriously investigated it, you've probably never seen the graphs below.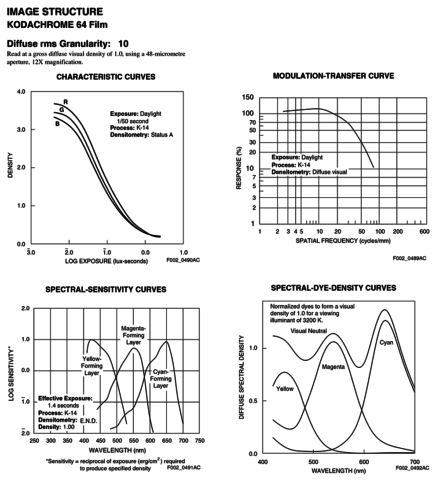 These graphs are the characteristic curves for a piece of film, in this case Kodak's now discontinued Kodachrome 64. More importantly they tell you almost everything you could want to know about the film and it's capabilities.