Mesa Verde: Southwest Adventure 2016
10 min read
Mesa Verde National Park is probably not the first place anyone thinks of when they think of interesting National Parks. Honestly, I can't say it's the first place I think of either. But it is interesting in its own way, and it's especially interesting if you're interested in anthropology and how early people dealt with the harsh landscape that is the American Southwest.
In late October of 2016, I went with my family on a road trip adventure across some of the American Southwest. I've already written about the Grand Canyon and Durango and the Durango and Silverton Narrow Gauge railroad. This time I want to talk about Mesa Verde, a rather obscure National Park focused on protecting some of the cultural heritage of the early peoples of the Southwest.
I've been to Mesa Verde twice, once in 1997 and once on this trip. Combined, I've probably spent less than 6 or 8 hours in the park. However, I have no recollection of even seeing a cliff dwelling, let alone visiting one, so that was something I wanted to rectify as much as possible this time.
Mesa Verde isn't the biggest, the most impressive, or the most grand of the National Parks; that not its focus. Its focus is to protect archaeological sites of the ancestral Pueblo peoples that lived there more than 700 years ago. These people survived in this harsh inhospitable area for nearly 700 years, only abandoning it in the late 13th century. Mesa Verde protects almost 5,000 archaeological sites, of which nearly 600 are cliff dwellings.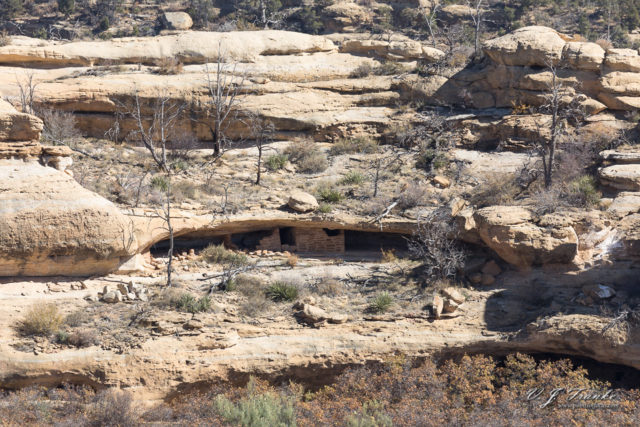 Like most National Parks, Mesa Verde demands more than a few hours to even start to explore. It takes a pretty substantial amount of time just to drive the park's roads — in part due to the low speed limits and steep and twisty nature — and even more to hike the trails to the various cliff dwellings. Honestly, if you're interested in the history and archaeology, you want to budget some time in Mesa Verde. Fortunately, there is an in park hotel (though I've never stayed there, so I can't vouch for the quality), the Far View lodge, and camp sites that can assist in using your time most effectively than driving in from afar.
While I'm at least tangentially interested in the archaeology, my visit wasn't really to understand the ins and outs of early civilizations that lived there. To be honest, I was there mostly because I didn't feel I really saw much if any of it when I was there nearly 20 years ago, and secondarily to see if I could find some interesting pictures.
From the perspective of a photographer, Mesa Verde is a challenge; at least for me. As I noted earlier, Mesa Verde isn't about spectacular scenery. At a minimum that means you as a photographer, at least as a landscape photographer, have to work harder.
The park is located on the top of a mesa. Looking out from the edges, you have 2000 foot, or so, drops to the Montezuma and Mancos valleys to the northeast all the way to the west. With the valleys themselves, being relatively flat and uninteresting for at photographically significant distance: the nearest mountains are some 20 miles away.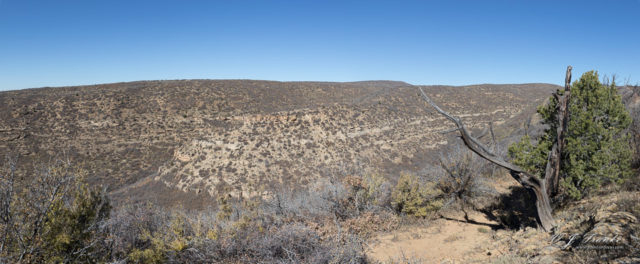 Looking inwards the park is transcribed by many canyons. Most of these start out as relatively shallow rolling depressions and gradually steepen into deeper canyons. It's in the natural bridges of the steeper parts of these canyons where the cliff dwellings are found.
For the most part, the terrain could be described as rolling with steepening canyons. As far as trees go, there are 4 distinct zones with different kinds of trees. This time I was on Wetherill mesa, which is dominated largely by Pinion-Junipers. These species are slow growing and take potentially centuries to recover from fires, of which there have been several in the last decade or so.
Compounding matters, there aren't a tremendous amount of places where there's a great deal of interesting and accessible rock formations to photograph either. There aren't any hoodoos, like Bryce has. No exposed arches, like Arches National Park. And the geology is relatively consistent, yielding little in the way of interesting layers like found in the Grand Canyon.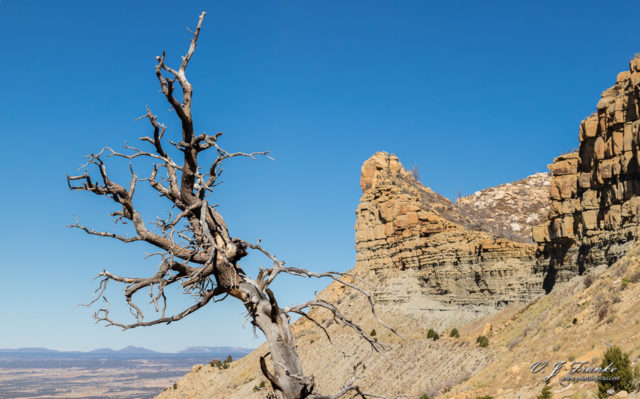 Most of what I think will be most interesting, the cliff dwellings. Even these can be challenging. There are nearly 600 cliff dwellings in the park boundaries, the vast majority of which aren't accessible to visitors.
Practically speaking, the majority of the cliff dwellings you can see, but not access, aren't all that impressive. They're a single, or very few, stone structures or walls under a natural bridges eroded in the rock face. For the ones I could see from the road, you'd need a reasonable telephoto lens to get anything that doesn't just look like an uninteresting side of a cliff. Even then, they don't make for great pictures.
Of the nearly 600 sites, only 5 are open to public access. On Chapman Mesa there are Balcony House, Cliff Palace, and Spruce Tree House. On Wetherill Mesa there are Long House and Step House. Of these sites, only Step House is open to self-guided tours. All the other sites require purchasing tickets for ranger led tours.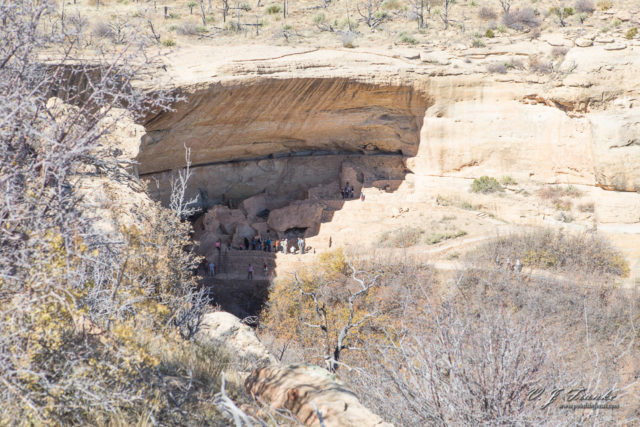 One thing to note, unlike many National Parks, Mesa Verde does not permit off trial/back-country hiking. Any hiking you may want to do, either for hiking's sake or for photography, must be confined to the available trails.
Additionally, a point of caution for the low landers like me. Mesa Verde is high, the top of the mesa is on average 8000 to 8200 feet above sea level. That it about 1000 feet higher than the Grand Canyon's South Rim, and on par with the North Rim. Much like I noted in my discussion about the Grand Canyon, the same caveats and cautions for those coming from sea level apply. 8000 feet isn't typically dangers for most reasonably healthy people. However, there is about 27% less oxygen available in the air. Somewhat similar to the South Rim of the Grand Canyon, for every 4 breaths you take, you'd need to take a bit more than 5 at the top of Mesa Verde.
That caution is relevant when it comes to hiking into and out of the cliff dwellings. Access to the cliff dwellings that are open to the public (either self guided or ranger guided) is from the top of the cliff, not the bottom. Much like the Grand Canyon, it's the hike back out that's up hill and most taxing. Typical vertical distances aren't horrendous. As an example Step House is about 100 feet below the Wetherill Mesa top, so we're not talking about 500 foot ascents or anything real significant.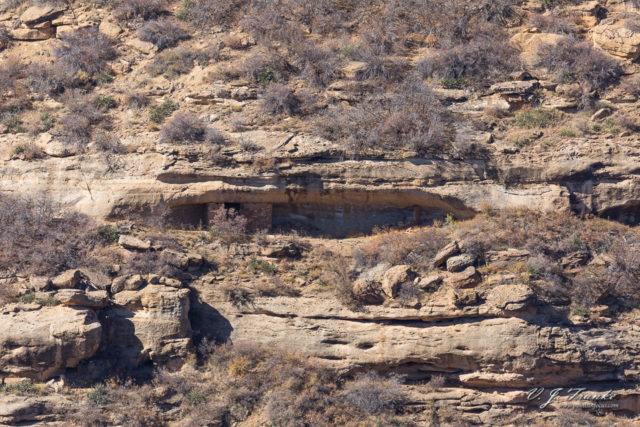 Also, don't underestimate the trails. Based on my dad's reading of the map, I thought the trail to Step House was going to be much shorter and much less steep than it was. Of course, I should have known better, and given I'd already hiked further into the Grand Canyon could have definitely hiked down to it. However, I stupidly left my water (it was in the low 70s when we were there, so I wasn't worried about dehydration) and camera strap in the car assuming it was just an easy walk to the edge of the mesa. That's completely on me, but then again, I'm a fan of learning from other's mistakes; so learn from mine.
Wildlife does offer some potential opportunities, but again, expect them to be slim. About the only significant wildlife I saw while I was there was a coyote. Even then, it was crossing the road, and never was in a position where I could readily take a picture of it. Moreover, once it crossed the road, it quickly headed into the brush, so there wasn't even an opportunity to photograph it out a side window.
The Park Service site for Mesa Verde has a list of animals that live in the area. However, again, I wouldn't expect too much, the simple reality is there isn't a great deal of access so you'll be limited to whatever may wonder across a road or trail.
In the end it comes down to this. You can find images in Mesa Verde, especially if your focus is to show how early native peoples survived in the harsh climate that is the American Southwest. However, if your focus as a photographer is interesting landscapes, or wildlife, then this is perhaps a place to pass on.