Smith Victor Adapta-Lights Review
5 min read
At the very bottom of the continuous lighting food chain are hardware store "pan" lights–simple stamped Al reflectors with a basic screw in socket. One significantly-sized step above them are Smith Victor's Adapta-Lights.
The Adapta-Lights come in 4 sizes (5-inch, 8-inch, 10-inch, and 12-inch) and feature smooth aluminium reflectors that produce smooth even beams, even when paired with clear glass lamps. They mount by clamping around the neck of the reflector and a 5/8″ ball that can in turn be mounted to the top of a lightstand. Alternatively they can be affixed to a clamp that can be attached to any surface up to about 2-inches wide.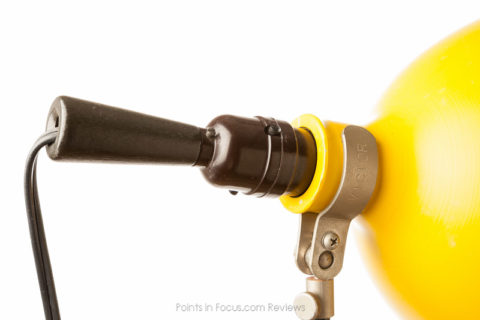 The Adapta-Lights are quite simple in their design. A simple socket and switch assembly, similar to the kind of socket and switch you'd find in a table lamp, screws into the rear of the aluminium reflector. This is also the weakest point in the system. Since the socket assembly is all plastic, with age and heat it can become brittle and break. Fortunately it's also cheap, less than $10, to replace to socket and handle.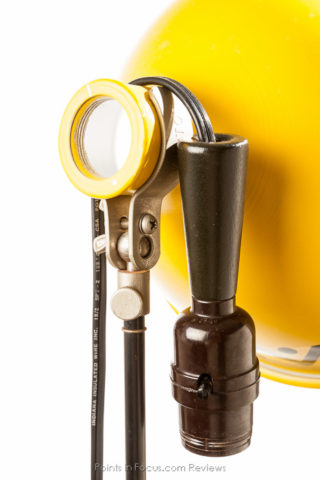 Light wise, the Adapta-Lights produce an even beam, even with a clear, not frosted, lamp. Their socket assemblies are rated for 660W. For photographic and videographic work, this ultimately means you'll probably be using an 250W ECA or 500W ECT lamp. However, since these fixtures use standard screw in lamps you can really use any kind of lamp you want. I've successfully used a number of CFL and other household lamps in mine to achieve the effects I needed.
Like the Smith Victor Ultra Cool lights (reviewed previously), the big hidden cost with these tungsten lights is the replacement costs of the lamps. ECA and ECT lamps can be had for $4-5 a piece, however they can be expected to only last 20 or 60 hours respectively. CFLs can be used, though some will require the use of a socket extension to fit, and many will likely protrude past the front of the reflector. My 10″ Adapta-Light, has a max depth from the base of the socket to the front edge of the reflector of just over 7″.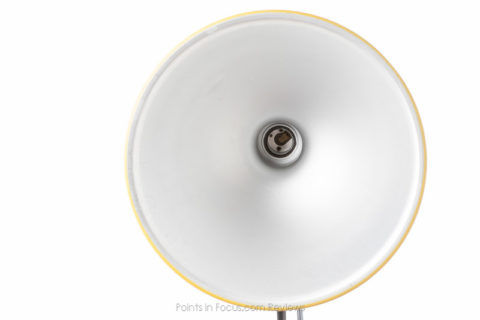 Light shaping is pretty limited, the Adapta-Lights use the same 5-, 10-, and 12-inch clip on diffusers the ultra cool lights use, as well as the 5-, 8-, 10-, and 12-inch double barn doors. Smith Victor also makes 5-, 8-, and 10-inch snap on gel holders as well.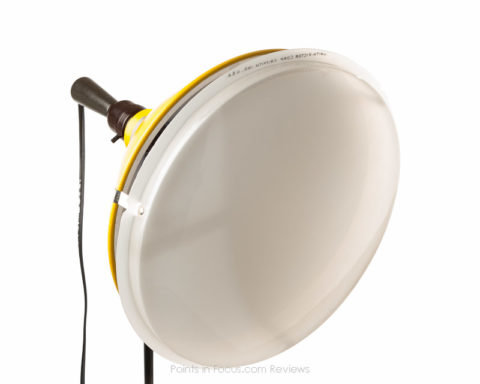 Though more expensive than a hardware store clamp on work light, the Adapta-Lights do produce a much better quality of light. Even then at between $30 and $35 depending on size, they aren't bank breaking fixtures at all. However, they can be somewhat fragile, I've broken more than my fare share of socket assemblies–though admittedly my Adapta-Lights are more than 20 years old.
Note: The lights depicted in this article are more than 20 years old, the modern Adapta-Lights are now finished in a nicer looking gloss black.