Smith-Victor A80 Ultra Cool Light Review
5 min read
Tungsten lights aren't very high on the "sexy" list of lighting equipment. And when it gets down to tungsten lights, E27 socketed ones, are about as far from sexy as you can get. However, they're pretty cheap, and produce light and sometimes that's all that really counts. What I'm saying is you won't find many people talking about things like Smith Victor's A80 Ultra Cool Light, it's just not catchy in the modern age. However, tungsten fixtures can be had relatively inexpensively and photo flood fixtures like the A80 do a much better job at controlling the beam pattern of a lamp than hardware store work lights.
The A80 has an 8-inch reflector that produces an approximately 100° beam, mounted to a separate housing that contains the power switch and a knob for aiming. The whole assembly is mounted via a yolk to a standard 5/8-inch light-stand stud.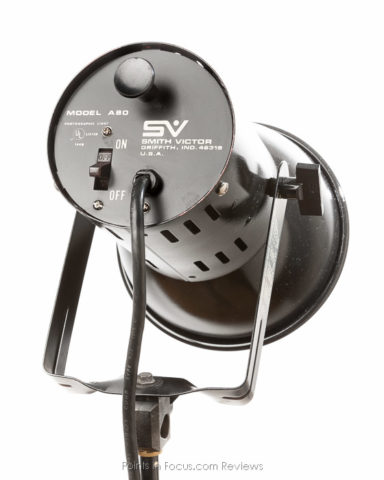 The A80, like it's A50 (5-inch), A100 (10-inch) and A120 (12-inch) siblings, is a step up from the Smith Victor Adatpa-Lights in both build and handling. The lamp is both simple and sturdy. The aluminum reflector is screwed and clipped to the secondary housing. Electrically there's merely a switch and the socket and a bit of wire. In short, there's not much to break, and not much that can't be fixed if it does break.
The sockets is a standard medium Edison screw-type socket which means your choice in light is pretty open ended. The lamp will work with any standard house hold incandescent lamp–though anything short of 100W isn't really going to put out enough light to really be useful–as well as standard photo floods like the 250W 3200K ECA, or 500W 3200K ECT lamps. The lights produce a fairly even beam, even when used with cheap clear lamps.
The hidden cost with these lights, especially when using photo floods, is the lamps. ECA and ECT lamps typically cost $4 a piece, and will run for an average of 20 and 60 hours respectively. This is compared to the halogen lamp in higher end fixtures, that average around $20 a piece and have an expected life time of more than 1000 hours.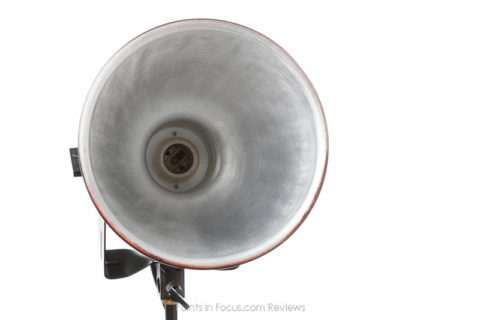 However, since it's ultimately just a screw in light fixture, you can substitute the standard tungsten lamp with a screw in spiral compact florescent one. Unfortunately spiral CFLs aren't as compact as the tungsten lamps they'd be replacing, and the dimensions of the reflector aren't particularly huge. There's just 7″ from the rear of the socket to the front of the reflector, and the throat of the reflector is only 2.5-inches in diameter out to an inch in front of the front surface of the socket. So a lamp like a 50W or 85W spiral CFL will likely extend past the front of the reflector, and may even require a socket extension to be mounted due to the constriction at the base of the reflector.
As far as accessories go, Smith Victor makes a pair of barn doors for the A80, as well as an 8″ filter holder. Both of which attach by snapping onto the edge of the reflector. However, they don't make a solid diffuser in the 8″ size, so you'll have to use diffusing material in the filter holder instead.
As lighting fixtures go, the A80 is down there towards the bottom in terms of being feature packed power houses. They are however, fairly inexpensive at around $80 new, and have a nice even beam, even when used with cheap clear lamps. Compared to the even less expensive Adapta-Lights they are considerably less fragile but not quite as compact and can't be easily clamped to things.
Note: The A80 Ultra Cool Light shown in this article is a refinished version of an A80 of unknown production date and usage–it was originally a washed out red. The current production A80s follow the gloss black paint scheme shown here, though some details may differ in production versions.