Canon EF 70-200mm f/4L IS USM Lens Review
10 min read
I've been using this lens for a little less than a year now, which is just long enough that I'm comfortable writing about it.
Like my other lens reviews, I intend to focus more on the ergonomics of day-to-day use than on optical performance. This is a conceit I must make for lack of money or equipment—optical benches are just so stupidly expensive. I'm also uncomfortable just making it up, or at least pretending that what I say has any objective meaning. What's tack sharp to someone else may be a mushy mess to me, and vice versa. If you want hard numbers, I suggest you do what I do and head over to DXO Mark's page for this lens.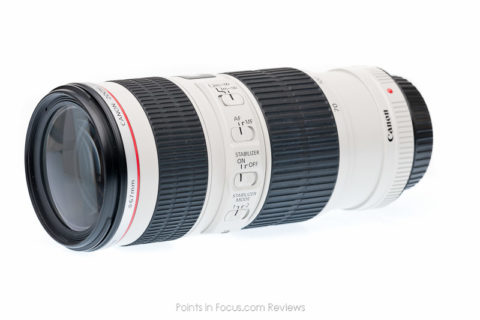 The 70-200mm focal range has been the "pro" grade mid- to short-telephoto lens space for as long as I can remember camera companies making pro-grade zoom lenses. These lenses sacrifice 100mm on the long telephoto end that their consumer grade 70-300mm cousins have to insure the image quality is pro level. In fact, it's only been recently that advancements in optical design have allowed for comparative quality 70-300 lenses; even then, there are still compromises.
Which 70-200 is right for me?
Canon's 70-200mm range is a venerable smorgasbord of choice. Canon has elected to produce 4 variations on the theme, varying in max aperture (either f/2.8 or f/4) and inclusion of image stabilization. Quite honestly, I think this was a brilliant move, as it's placed high quality lenses from $700 to $2600 and leaving the photographer to choose the features they want based on their needs and budget.
 
Image Stabilization
YES
NO
Aperture
f/2.8
EF 70-200mm f/2.8L IS II USM
EF 70-200mm f/2.8L USM
f/4
EF 70-200mm f/4L IS USM
EF 70-200mm f/4L USM
The advantage here is that you can avoid paying premiums for features that may be unnecessary. Don't need to shoot in low light? The f/4 models will save considerable weight and money. Is all your work in a studio with strobes? The f/2.8 version without IS will save big money over the IS version and still get you the fast aperture for smooth buttery backgrounds.
The Canon EF 70-200mm f/4L IS USM
Size, Build, and Handling
This brings us to the EF 70-200mm f/4L IS USM, unlike its f/2.8 brethren the f/4L IS tips the scales at only 1.7lbs. (760g) and is a mere 3 inches in diameter and 6.8 inches long. By comparison, the EF 70-200mm f/2.8L IS II USM weighs 3.2 lbs. (1490g) and is 3.5 inches in diameter and 7.8 inches long.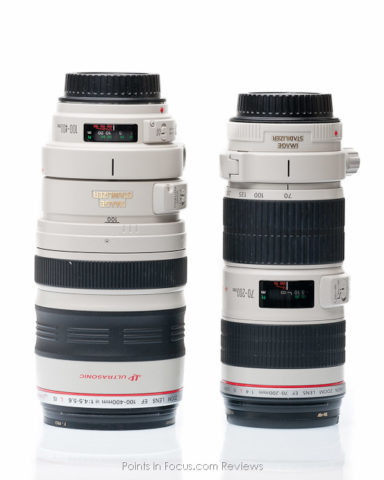 The smaller size and weight means two things. First, the lens can be hand held longer and easier than the larger f/2.8s. Second, and more importantly, the lens will fit in the secondary lens compartments of more bags than the f/2.8 versions will.
When I was writing about Think Tank's StreetWalker Pro backpack, I noted that 7 inches is about the ideal depth for a bag, as most primes under 200mm and small zooms will fit in that space. In my StreetWalker Pro, I can carry this lens in one of the side lens slots instead of having to give up the main compartment. As a result, I can pack 2 bodies and a 70-200/2.8 or 100-400 in the main compartment and this lens in the side compartment with room to spare.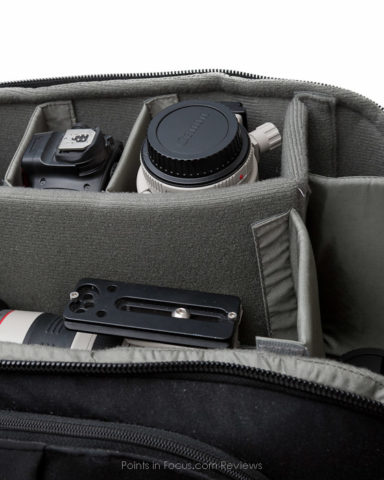 The control's follows Canon's pro style design traits; the focus ring is at the front and the zoom ring to the rear. The both the zoom and focus rings are wide and rotate smoothly. Like most Canon lenses, focus can be set past infinity, which is something to watch out for when focusing manually. Additionally, like other full-time manual capable USM lenses, the focus ring will rotate indefinitely, without a little more resistance indicating that the lens elements have reached the ends of their movement.
The EF 70-200mm f/4L IS USM is an internal focus and internal zoom lens; its length never changes regardless of focus or zoom position. Moreover, because of that the filter-rings are essentially part of the outer lens barrel and don't rotate, which is good for creative filters like polarizers and split ND filters.
Unfortunately, there is one negative to the front filter rings. At 67mm, they are 10mm smaller than the filter rings on Canon's other pro lenses. If you're like me, that means a 67mm to 77mm step-up ring is in order. I'd also consider ordering a rubber lens hood, like this one(Affiliate Link) , since you won't be able to use the Canon one while using a CPL either.
A side effect of this is that it's easy for Canon to weather seal the lens, and in fact this is a dust and weather sealed lens. It's not waterproof, only water resistant. Submersion is flat out, but rain isn't a problem. Also, like most Canon lenses, a front filter is needed to complete the weather sealing.
There is a groove for an optional tripod mount. The most appropriate part is the Canon Tripod Mount A II (W); the W indicates that it's white, as there's a black version as well. Strictly speaking, the lens is small and light enough that it's not necessary to use a tripod ring with it. Unfortunately, clearance between the tripod ring and a gripped body is minimal.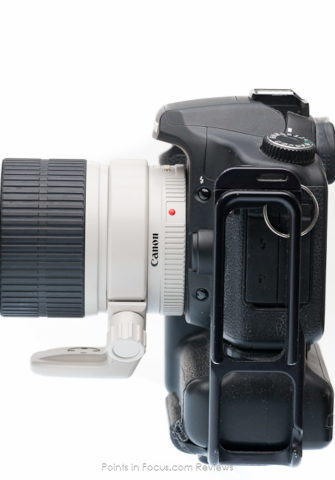 Like other L lenses, it comes with a Canon ET 74 lens hood in the box. The ET 74 hood is a simple circular hood not a petal hood like the f/2.8 versions use. The hood attaches via a plastic bayonet system. Though tight out of the box, my experience with other Canon lenses leads me to it to loosen up as the "nibs" wear down through use.
Additional external controls include an AF/MF, focus limiter, and stabilizer activation and mode switches. They are located between the focus and zoom rings for easy access. The switches are Canon's flat design and are relatively stiff, so they shouldn't change accidentally.
Canon claims the image stabilizer is good for 4-stops. In my experience, it does a very good job of reaching the advertised rating. Like Canon's other non-super-telephoto stabilized lenses, the IS system isn't smart enough to detect whether it's on a tripod or not. For maximum image quality when shooting from a tripod, the IS system should be turned off manually. Finally the IS system has 2 modes, mode 1 and 2, which must be manually selected depending on need.
Mode 1 is best for static subjects, it compensates for shake in all directions. Mode 2 is the "panning mode", where the system only compensates for movement in the axis perpendicular to the direction of the pan. Like all optical stabilization systems, there are hard limits to what it can actually deal with. For example, it won't make tack sharp images from a moving vehicle on a bumpy road.
Optical Performance
The lens consists of 20 elements in 15 groups, including 1 Fluorite element and 2 Ultra-low dispersion elements. The combination of UD and Fluorite elements mean that CA is well controlled; I don't see any issues worth talking about in my images. DXO Mark has measured the lens's CA at 6 microns; you won't see it if you're not using a very high-density crop sensor (7D, 60D, T3i) even then it will be minimal.
The exotic elements also help keep distortion under control. I use the built in profiled distortion correction in Lightroom 3 and with some lenses you can really see a difference turning it on and off, not so much here. DXO Labs backs that experience up, measuring the distortion on average at less than 0.5%.
Resolution is superb too, the lens easily out resolves my workhorse 1D mark 3, as well as my 40D backup. This is easily one of the sharpest lenses I've owned or used. Though like any other subjective qualification of lens performance, you should take this with a grain of salt.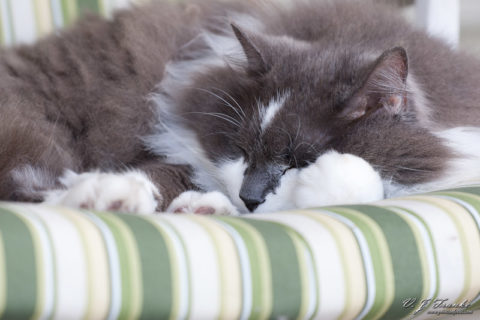 The low distortion and chromatic aberration coupled with the lens's resolving power, allows this lens to be effectively paired with Canon's teleconverters. With a 1.4x teleconverter the lens becomes a 98-280mm f/5.6, with the 2x it becomes a 140-400mm f/8 lens.
Normally I'd avoid using a teleconverter with a zoom lens. They magnify the optical flaws in any given lens, and image quality decreases rapidly. A better teleconverter helps, but only to a point; on some lenses, especially zooms, the loss of image quality always outweighs any gain in reach. This lens is one of the exceptions. In my experience, it's virtually impossible to tell that there was a teleconverter involved by looking at the images alone.
Though a 1.4x teleconverter reduces the aperture by a stop, to f/5.6, the EF 70-200mm f/4L IS USM will continue to focus on all Canon bodies. Moreover, AF performance doesn't appear to be appreciably slower when paired with a TC. Even in low contrast environments, I am able to snap the subject into focus more than fast enough to get the shot.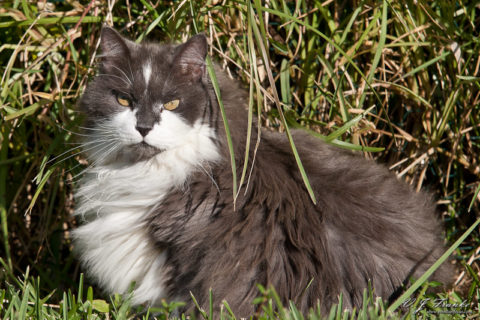 Speaking of autofocus, the lens has a 2-position focus limiter. The options are the full range of 1.2m to infinity and the reduced range of 3.8m to infinity. Using the 3.8m setting cuts focus travel, and this acquisition time, dramatically. Additionally, in the 3.8m mode, most cameras shouldn't need to hunt due to defocus anyway.
The minimum focus distance is 3.94 feet (1.2M) resulting in a maximum magnification of 0.21x. With the 1.4x TC magnification is increased to .31x; with the 2x TC, 0.5x. The table below shows the magnifications and working distances with various extension tubes.
 
Working Distance
Magnification
Near
Far
Near
Far
EF 12
70mm
1.77 ft (0.54 m)
2.07 ft (0.63 m)
0.23x
0.17x
200mm
3.28 ft (1.0 m)
11.48 ft (3.5 m)
0.28x
0.06x
EF 25
70mm
1.35 ft (0.41 m)
1.35 ft (0.41 m)
0.42x
0.38x
200mm
2.89 ft ( 0.88 m)
5.91 ft (1.8 m)
0.37x
0.14x
This isn't a macro lens by any stretch of the imagination, though it is possible to get close to 0.5x magnification a number of ways making it at least usable in that fashion in a pinch.
Video Performance

Though the lens isn't designed to be a video lens, it's overall sharpness plays well. IS does function when recording though camera shake is a considerably larger issue with video than it is with stills and the IS system isn't optimized to provide stable video shooting. It does help though.

Though not marketed as a parfocal lens the EF 70-200mm f/4L IS USM does an admirable job of not shifting the focus position while zooming, at least under the conditions imposed when shooting video. Based on what I've seen with my copy, the lens can be zoomed from tight to wide without significant issues in terms of focus. This is no cine lens with a long though focus ring and well marked distance scale so focusing at the wide end and pulling in tighter will be more problematic. That said, it seems the lens is stable enough that you can focus at 200 and rack zoom as needed. Unfortunately, while it's good enough for video on a 5D-3, it's not good enough for stills.

While the parfocal performance is surprisingly good, breathing is unsurprisingly an issue. The internal focus mechanism isn't designed to hold the focal length fixed while focusing at close distances, and as such the lens breathes noticeably. This is unfortunate, but not unexpected and can be worked around to some degree either by panning while pulling focus or though some post production techniques (though the latter will impose some quality losses).

When it comes to pulling focus and zoom, the internal focus and internal zoom design makes for very smooth controls. Neither the focus or zoom rings have varying amounts of resistance—which can lead to stuttery pulls. That said, adding some leverage from something like a Redrock Micro nano focus+zoom, or a DIY equivalent makes things even smoother.
TL;DR Conclusions
In short, what I'm saying is this is a very good lens. It's as sharp or sharper than the EF 70-200 f/2.8L IS USM, and on par with the superb EF 70-200mm f/2.8L IS II USM (the new one), all the while being considerably lighter and smaller than any other f/2.8 70-200. Compared to the consumer 70-300s, it's far better lens optically, and it has the advantage of being weather sealed.

The only real alternative worth considering from Canon is their new 70-300mm f/4-5.6L. Image quality is near enough between the two that you're not taking a major hit, though the 70-200 is a constant f/4 lens and doesn't extend when zoomed.
Lens Data
Optical Specifications
Focal Length
70mm – 200mm
Angle of View (Full Frame)
Diagonal: 34° – 12°
Vertical: 29° – 10°
Horizontal: 19°30′ – 7°
Min Focusing Distance
1.2m / 3.9 ft.
Max Magnification
0.21x @ 200mm
Max Aperture
f/4
Min Aperture
f/22
Max Aperture by Focal Length
f/4 – 70-200mm
T-Stop by Focal Length
t/4.6 – 70-200mm
Aperture Design
8 blades, rounded
Optical Formula
20 elements in 15 groups
Elements/Coatings
1 Fluorite, 2 UD
Stabilized
Yes
Stabilizer Performance
4 stops
Stabilizer Modes
Mode 1 – Stabilize both axis
Mode 2 – Stabilize axis perpendicular to pan
Breathes when Focusing
 yes
Parfocal
 depends on use *
Focus
Focus Type
Internal
AF Type
Ring USM
Full Time Manual
Yes
Focus Ring Rotation
122° from MFD stop to ∞ mark
133° from MFD stop to ∞ stop
E-TTL 2 Distance Info Provided
 Yes
Distance Scale/Type
Yes, Window
Focus Limiter? / Positions
Yes, 1.2M→∞, and 3m→∞
Zoom
Type
Ring
Zoom Lock
No
Build
Length
6.77″ / 172mm
Diameter
3″ / 76mm
Weight
26.8 oz / 760g
Material
metal barrel, metal mount
Finish
Off white
Filter Threads
67mm
Weather Sealed
yes
Misc
Lens Hood / Included
ET-74 / Yes
Tripod Ring Include / Removable
No (Tripod Mount Ring A-2) / Yes
Extender Compatible
Yes
Case / Included
LP1224 / Yes
2012 Camera AF Data (5D Mark 4, 1D X mark 2)
 
AF Group:
C
AF Points:
All 61 points active
All 41 cross points active
Group Diagram
2012 Camera AF Data (5D Mark 3, 1D X)
 
AF Group:
C
AF Points:
All 61 points active
All 41 cross points active
Group Diagram
* Canon does not officially list whether their EF lenses are parfocal or not. However focus stability when zooming (at least going from telephoto to wide, and when shooting video) is very good as shown in the video demo. However, for still imagery there is a small but noticeable shift in focus towards infinity when zoomed from 200mm to 70mm.