Canon EF 100-400mm f/4.5-5.6L IS II USM Review
40 min read
Canon's 100–400mm zoom lens has long been a staple lens for wildlife photographers who couldn't afford the cost, size, or weight of Canon's big white primes. Though it had respectable performance, the original 100–400 has been showing it's age and was seriously in need of replacement. In December of 2014, Canon announced that replacement.
In my opinion it's hard to speak poorly about the original 100–400. It was released in late 1998, and survived for 16 years. Even then, it still performed well enough to be a solid lens for all but the most demanding measurement driven users. Though the optical design was certainly showing its age, arguably the biggest deficiency in that lens was the lack of weather sealing combined with the push-pull design and a complex zoom friction/lock mechanism that was prone to failure.
That said, as highly as I regard the original 100–400, its age and the limitations imposed by mid 90s technology really show their age now in the mid 2010s. The wait for a replacement is now over, the only question is how good is that replacement.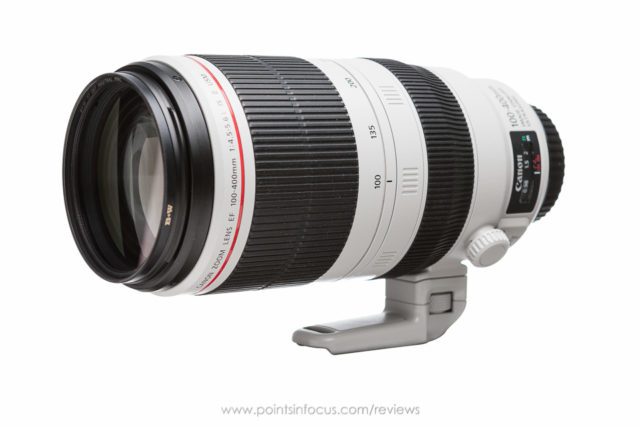 Build
The first generation Canon 100–400 was built well, but hardly like the fabled tank. My own experiences with failures—my 100–400 mark 1 is the only lens I've had to have repaired to date—showed me that there were definitely reliability issues that could seriously damage the lens. Though EF 100–400mm f/4.5–5.6L IS II USM is too new to have established a track record for reliability, it has at least addressed the obvious points that were deficient in its predecessor.
Weight alone certainly isn't a good indicator of robustness, however it can shed a glimmer of light on the build quality of a product. The EF 100–400mm f/4.5–5.6L IS II USM packs on a few ounces in this respect; weighing in at 3.5 pounds (1570g), up from the 3 pounds (1380g) of its predecessor. At the same time the overall dimensions haven't radically changed. The first generation lens measured 3.6" (92mm) in diameter by 7.4" (189mm) in length, while the new lens measures 3.7" (94mm) in diameter by 7.6" (193mm) in length. By comparison, Nikon's contemporary, the AF-S 80–400mm f/4.5–5.6G ED VR, weighs the same and is 0.1" (1.5mm) larger in diameter and 0.4" (10mm) longer. 
Packing on ounces and inches isn't exactly the direction I want to go, I'd rather not be putting more weight in my bag and on my back. On the other hand, we're not talking about that much of an increase. Moreover, if the cost of the rest of the improvements made with this lens is the scant few ounces that were added, I'll gladly make that trade any day of the week.
Reliability is still an open question the lens is just too new to have any kind of information about how well it handles abuse.
That said, the folks at LensRentals.com have torn this lean down to nearly the component parts. Lens Rentals represents something of a unique point in the photography world when it comes to talking about build quality. They're a rental house that performs a lot of their own repair work in house. This puts them in a unique position not only to be able to compare lenses across a number of manufacturers, but also gives them a unique perspective to look lenses for areas that could be trouble spots based on experience with failures in lenses that are heavily used.
The short of it, is that Rodger and company over there, feel that the EF 100–400mm f/4.5–5.6L IS II USM is built much more like a $10,000 500mm f/4 or 600mm f/4 than a $2200 tele-zoom. In my opinion, and given their track record, this is not faint praise for the build quality of this lens.
Weather Sealing
Unlike its predecessor, the EF 100–400mm f/4.5–5.6L IS II USM is build to a much higher level of dust and weather resistance. Does that mean it's weather sealed? And if so to what degree? Does it need a filter and does that even matter?
Interestingly, Canon has changed the language in the manual regarding weather sealing, it now reads as follows.
12: Tight seal structure that provides excellent dustproof and drip-proof performance. However, it is unable to provide complete protection from dust and moisture.
Honestly, I'm not entirely sure what to make of this. The second sentence regarding complete protection is a new, and to the best of my research a unique, addition to the language compared to other L lenses. What is unclear to me, is whether that language is disclaiming a real or at least meaningful difference in weather sealing compared to other L lenses.
Compounding the situation, Bryan Carnathan claims that Chuck Westfall of Canon USA has said that the lens is weather sealed but requires a filter to complete it. However, there is no direct quote or link to a source. I don't believe for a moment that Mr. Carnathan is mis-representing the truth, but with a $2200 investment on the line here, I'd like something more substantial and preferable direct documentation from Canon, and not just an implied but unlinked quote on another reviewer's site.
With that said, since I haven't taken the lens apart, though from what I can tell from handling the lens it's definitely better sealed than its predecessor. There's now a gasket on the lens mount, and that's certainly an obvious sign of improvement.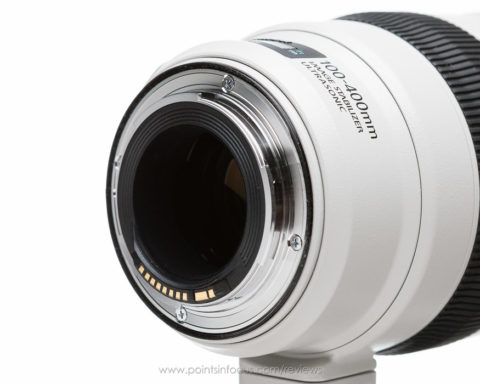 As far as requiring a front filter as part of the sealing, I'll buy that as well. Like many lenses, there is a retention ring on the from and that ring does have key holes in it to allow it to be installed and removed. On many lenses these holes are behind a decal that includes lens information which would provide some protection against dust and moisture, that's not the case here.
So where do I stand on all of this?
Based on all the information I have, and have been able to find from Canon USA, CPN, and CPX, I have absolutely no problems with using this lens in a dusty or sandy environment like a beach. This is something that I absolutely refused to do with my first generation 100–400 after having one failure resulting in a costly rebuild.
I'm also not concern about drips, drizzling rain, spray or mist being an issue. Though most of that I don't worry about even with non-weather sealed lenses. Where I draw the line is full rain or heavy spray. If it's raining, I'm going to put the lens and camera in a raincoat like ThinkTank's Hydrophobia 70–200. It's just not worth the risk to me.
Tripod Collar
The tripod collar is another area where Canon has made a major upgrade. The previous generation lens's collar slotted from the rear on and rode over 4 bearings. This necessitated gaps in the raceway in the collar to allow it to be removed, and those gaps cause the collar to bump and chatter as the bearings slip out of the raceway and into those gaps. If you're familiar with either Canon's EF 70–200mm f/2.8L IS II USM, or Nikon does something similar on their 70–200mm f/2.8G and 80–400mm f/4.5–5.6G, the old 100–400 was the same.
The new 100–400 however is a completely different cup of tea. Instead of following the typical design of a zoom lens this size, Canon pulled a page out of their big white prime design playbook. The rotating ring part of the collar is now premaritally attached to the lens barrel and cannot be removed. Instead of detaching the entire tripod collar assembly to remove it, you now just remove the foot from the rotating ring.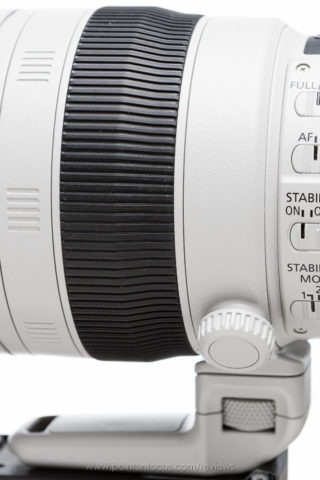 The permanently attached ring completely eliminates the chatter that a non-continuous track and bearings produces. As a result, rotating the lens in the tripod ring is buttery smooth.
As far as the foot connection goes, Canon's design uses a set of alignment pins and a bolt to secure the foot and prevent it from rotating. At first glance, this arrangement looks somewhat less secure than a dovetail (such as what Nikon uses on their 70–200mm f/2.8) or a multi-bolt arrangement (such as Canon uses on the 200–400).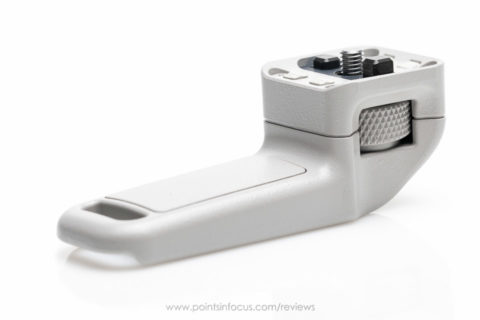 That said, I'm not convinced that's actually the case. Resistance to rotating the foot is provided in 3 complementary ways. First, the mounting surface is profiled in such a way that it will resist rotating forces to some degree. Second, the 2 alignment pins that protrude into the lens will also resist rotation. Finally there are 4 rubber pads that dramatically increase the friction between the two surfaces when compressed by the mounting bolt.
So long as the mounting mechanism is kept tightly secured, I expect that it will be more robust and long lasting than it appears at first glance. Moreover, keeping it secure doesn't appear like it will be much of a problem. The knurled mounting screw is quite challenging to loosen accidentally, and even more challenging to loosen when you're trying to do it in a hurry. This is due in part to a combination of it's recessed positioning and the design of the engagement system.
My initial misgivings of the design was that removable foot would have a lot of play in it when used on a tripod head. Due to the magnification that a 400mm focal length gives, it's especially important that the tripod head and lens foot are secure and don't rotate.
Fortunately, when tightly secured, there's little if any play in the foot to collar mounting arrangement. There is the tiniest click or rattle from the foot, but it's much smaller and less noticeable than even the play in the EF lens mount. In normal use, even canted to the side as it would be when used on something like a Wimberley Sidekick, I can't see there being any problems here. Moreover, I've not seen any movement that I can attribute to the tripod foot in practice.
All told, I like the new foot and collar arrangement better than the old one. It's much smoother and doesn't seem to be any less stable than the collar on the old 100–400 either. As a brief aside, I hope this new collar is an indication of what we can expect to see in the next generation of Canon's EF 70–200mm f/2.8L IS USM lenses.
Arca Swiss Plate Compatibility
Typically small lenses like these will use plates similar to the Wimberley P–20 or Really Right Stuff MRP–113 instead of a complete replacement foot. These plates are typically anchored to a lens's foot with a single 1/4–20 bolt and a raised "lip" that contacts the lens foot to prevent the plate from rotating. The design of rear of the foot, namely the shallow angle and gap between the two edges, can make this problematic.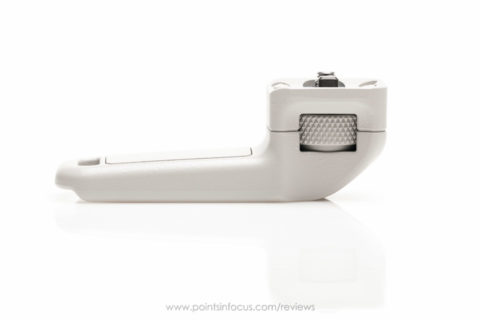 For example, the two anti-rotation pins on the Wimberley P–20 plate barely work. Brian Carnathan of The Digital Picture suggests almost fully tightening the bolt for the plate before final alignment and tightening. I found that a small bit of gaffer tape that was rolled into a tube worked exceptionally well at keeping everything aligned and square.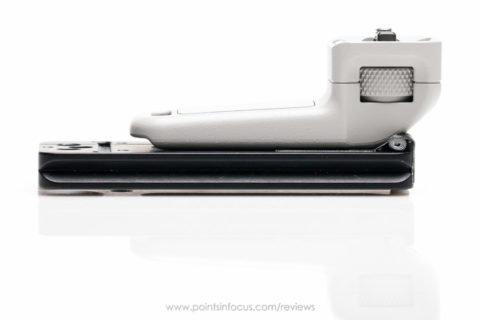 This shouldn't be as much of a problem with a plate like the Really Right Stuff MPR–113, since the anti-rotation mechanism fully spans the plate.
Alternatively, Really Right Stuff sells a replacement foot that can be bolted in place of the Canon foot. This is probably the best option for one seeking the ultimate in stability in mounting the lens to a tripod. Unfortunately that replacement foot no longer has the option for mounting the old style bolt through Really Right Stuff flash brackets, which precludes me from seriously investigating it at this time.
The foot also includes a second unthreaded hole set 15mm ahead of the 1/4–20 mount that could also be used to prevent a plate form rotating. This is, I believe, the standard distance for most small video cameras. For users of Manfrotto's RC–2 system, this will be the way you'll need to insure the lens doesn't rotate on the plates.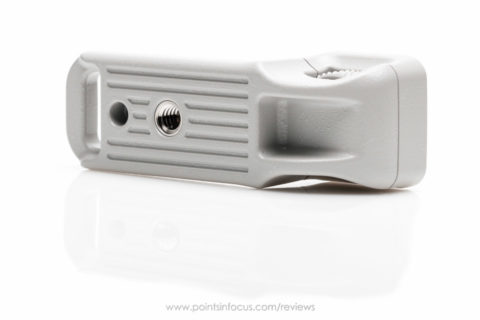 Lens Hood
Historically there's never been much to say about lens hoods. They shade the lens which improves contrast, as well as providing physical protection against damage. At least that's the case for most hoods. The hood on the EF 100–400mm f/4.5–5.6L IS II USM is a little special in two ways.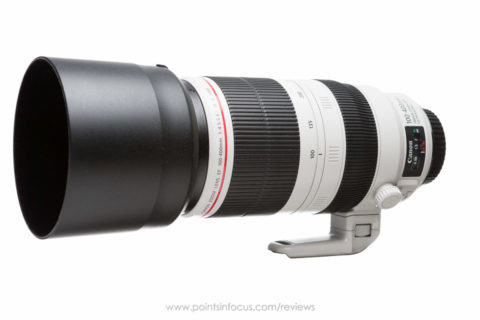 First, it uses Canon's current practice for L lenses of using a button actuated lock to keep the hood in place instead of relying on a friction fit. Friction fit hoods have always given me fits. They may be tight when new from the factory, but in my experience, slowly, over time, they become looser and looser as the mount on the lens or the fit in the hood wears in. As a result, it gets to a point where you have to secure the hood with gaffer tape or risk it falling off in an inopportune place.
The locking hoods on current Canon lenses rely on a small actuated arm that blocks the hood in the fully seated and locked position. Without either breaking the arm off, or depressing the button to move it clear, you simply can't rotate the hood off the lens. Moreover, since the lens isn't relying on friction between the hood and mounting assembly, the mount shouldn't wear as much if at all.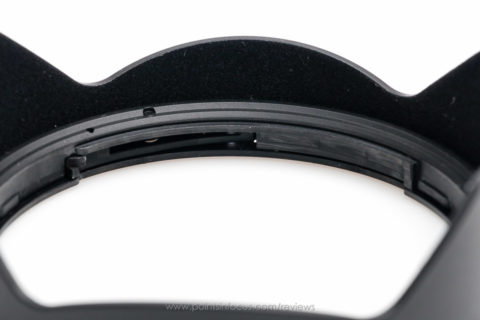 I should add, there is no specific correct orientation for the lock to work. It will work with the hood in normal usage or storage positions as well as with the filter door pointed up or down.
The second major feature is a door on the hood that allows you to adjust a circular polarizer without having to remove the hood. Pentax had a feature similar to this on a few of their lenses, though it wasn't quite as fully developed.
Properly using a circular polarizer can make all the difference in some kinds of photography. It will kill the reflections from water, darken the sky, and even improve the saturation of leaves by killing glare from them. However, they require a fair bit of adjustment to maintain optimal alignment.
With the first generation 100–400 using a polarizer posed a choice between either removing the hood constantly, leaving the hood off, or risking getting finger prints on the polarizer when trying to reach in and rotate it. This is no longer a problem.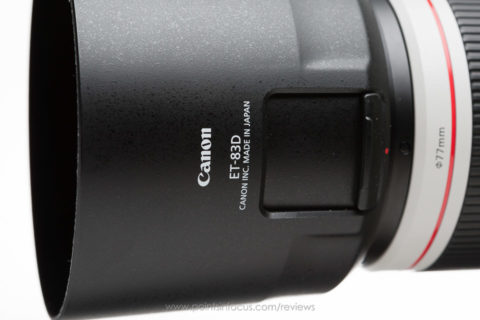 Moreover, the design of the polarizer door limits where your finger can be in such a way that it's easy to adjust a polarizer by feel without worrying about touching the front of the filter. Even if you don't have a protection filter on the lens, you can confidently follow the back edge of the hood with your finger into the lens knowing you won't end up sticking your finger on the front of the filter.
All told, the polarizer adjustment window isn't quite as easy to use as the adjustment knob on the drop in polarizers used on Canon's big white primes, but it's a heck of a lot better than taking the lens hood off every time too. I can certainly see myself using a polarizer with this lens a lot more than I ever used one with the first generation 100–400.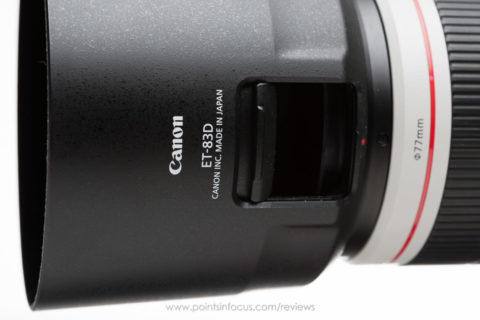 About the only real deficiency you could argue exists in the ET–83D hood is that it's a cylindrical hood instead of a tulip or petal hood. The cutouts in a petal hood allow the petals to be longer and provide better shading. That said, I don't think that a tulip hood would add much in the way of shading over the already sizable round hood.
Handling, Zoom, and Focus
The size and positioning of the controls on a lens can tell you a lot about how the manufacturer expects the lens to be used. For example, making the focus ring large and placing it forward on the lens strongly suggests that the manufacturer expects the lens to be manually focused frequently.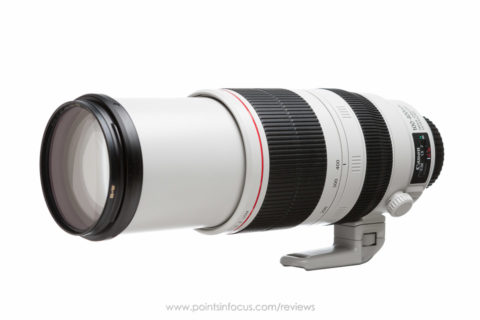 Generally speaking, most professional zoom lenses are designed with equally sized focus and zoom rings, and with the focus ring placed towards the front. The arrangement makes sense for a market that still heavily uses manual focus. In contrast, consumer lenses tend to be built the other way around, with a larger zoom ring towards the front and a smaller focus ring closer to the lens mount; strongly reflecting the heavier autofocus approach of most non-professionals.
With that in mind the 3 newest Canon Telephoto zooms, the EF 70–300mm f/4–5.6L IS USM, EF 200–400mm f/4L IS USM Extender 1.4x, and now the EF 100–400mm f/4.5–5.6L IS II USM, all have larger forward zoom rings and smaller focus rings towards the rear. However, unlike consumer lenses with their 1/2" wide focus rings, all of these lenses have 1" wide or wider focus rings.
The arrangement makes sense when you stop and think about it. All of these lenses are aimed at sports and wildlife photography, where tracking action places a much heavier emphasis on using the AF system. Though the manual focus controls are still prominent and accessible.
This arrangement of controls comes with it's pros and cons as well. Compared to the original 100–400, the new controls in part by virtue of no longer being a push-pull zoom, are always in the same place. This makes them considerably easier to find by feel since you don't have to groping along the lens to find the focus ring anymore.
Moreover all of the controls are now much closer to the tripod collar. This reduces the amount of torque touching the controls applies to the lens and therefore makes it much less prone to shake and move when focusing or zooming.
The biggest con I've found so far, is that with the focus ring as close to the lens foot as it is now, the foot can make it difficult to access when hand holding. On a tripod or monopod where you'll typically have your hand on top of the lens, this isn't a problem. That said, the gain in stability when focusing, especially when focusing with live view and 10x magnification, massively offsets the slight difficulty of access.
Zoom Ring
The biggest change in terms of usability is the shift from the lens being a push-pull (sometimes called a trombone) zoom, to a rotating ring design. You might call the old design polarizing.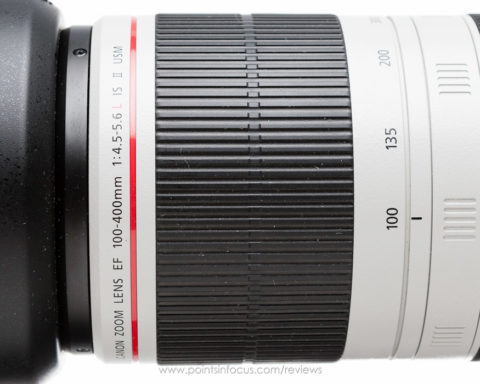 Either way the push-pull design did have some advantages when it came to zooming to track something moving towards you. Moreover, you could do that when shooting handheld while keeping your hand under the lens to provide optimal support and stability.
The new zoom ring dominates the exterior of the lens. The entire front 3 inches of the fixed barrel rotate as the zoom ring. Of that 1–7/8 inches are rubber grip.
The ring rotates through about 90° to cover the zoom range. On one hand, 90° doesn't seem like that much when it comes to covering the zoom range. On the other hand, it means your hand ends up 90° to the side when you zoom from one extreme to the other.
In practice I think this arrangement is a little worse for zoom tracking things coming towards you, at least when shooting handheld. On the other hand, this is no more of a problem than it is for any of the other big telephoto zooms. Moreover, it's been almost entirely a non-issue when working form a monopod or tripod.
The zoom ring is smooth but has resistance. The resistance doesn't exactly surprise me either. That said, the zoom ring isn't stiff enough to preclude making minor adjustments to the zoom position with one's fingertips.
The other positive side effect of the stiffness of the zoom ring is that the lens isn't all that likely to extend when being carried. However, just to be sure there's a "touch adjustment" ring between the zoom and focus rings, that will significantly increase the friction on the zoom ring.
Zoom Touch Adjustment Ring (Zoom "lock")
Behind the zoom ring is what Canon is calling the Zoom touch adjustment ring, for simplicity sake I'm just going to call it the zoom lock here. The intent of this ring is to maintain the same freedom the zoom lock ring on the first generation 100–400 granted. Though fortunately, Canon seems to have improved the design of the ring's internal mechanism significantly.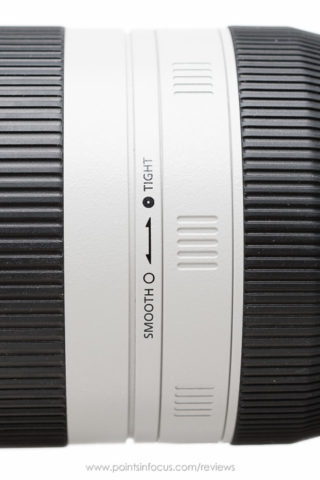 Technically the "touch adjustment ring" doesn't lock the zoom position. What it actually does is increase the friction of the zoom mechanism making it much harder to change. In practice, it increases the friction enough that the zoom position isn't going to change unless you deliberately adjust it by turning the zoom ring.
I really like this style of "lock". Most similar big telephoto lenses, including the Nikon AF-S 80–400mm f/4.5–5.6G ED VR, only allow you to lock the lens at the shorted focal length—though generally the lock is a real lock that can't be overridden. With Canon's solution I can comfortably lock my lens at any arbitrary focal length, then spend an evening shooting images of the moon or a constellation with the lens pointed up, and not have to worry about the focal length changing while I'm doing this.
The zoom lock ring is the smallest of the 3 control rings, and also the hardest to actuate having only indented metal "grips" and no rubber areas. It's easy enough to get ahold of when you want to set it, but not so easy to rotate that you'll do it accidentally while trying to work the zoom or focus rings. Fortunately, since it just increases the friction instead of locking the zoom position, if it's engaged and you need to change the focal length, you can just rotate the zoom ring to where you need it.
Focus Ring
The focus ring on the EF 100–400mm f/4.5–5.6L IS II USM isn the furthest to the rear of the control rings. Though bigger than zoom lock, it's considerably smaller than the zoom ring, at 1–3/4 inches long. However, almost all of its surface is covered by rubber grip material. Both the overall size, and size of the rubber grip area are significantly larger than the focus ring on the first generation 100–400 as well.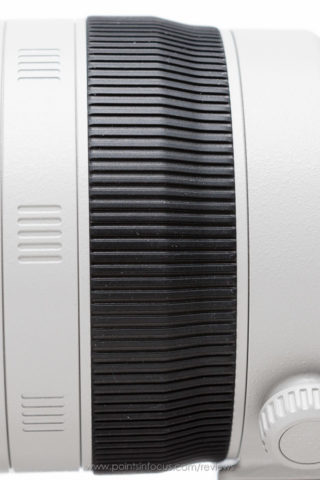 There are a number of tactile points that allow you to differentiate between the zoom and focus rings by feel. The focus ring has a finer pitch to the ribs, they lack a separation in the middle, and the ring has a significant step down in the middle where the diameter of the lens drops.
The ring rotates very smoothly, as expected for a high end USM lens. Also like most USM lenses, the focus ring doesn't stop at the ends of the focus throw, making manual focus in cinema style setups more difficult.
One thing I found is that the bump at ends of the focus helical are very subtle. The focus rings on most USM lenses I've used, show a slight, bump and often an increase in resistance when the focus elements have reach the end of their travel. That is you can tell by feel to some degree that the ring is just spinning and you're not focusing any further. With this lens, that bump is very subtle and very hard to detect by feel when focusing with the lens on the camera.
General Performance
Autofocus Seek and Hunt Speed
Subjectively the EF 100–400mm f/4.5–5.6L IS II USM feels like it focuses even faster than its predecessor, which honestly was already pretty fast. Even hunting, feels to be quite fast. I've yet to run into an instance where I've missed a shot because the lens couldn't acquire or track focus fast enough.
In the past I've done rudimentary AF hunt tests with various lenses, and I'd like to repeat them with this lens when I have the time to do so.
Focus Limiter
Many telephoto zoom lenses are equipped with an AF distance limiter as a means to retain high AF acquisition performance at typical working distances.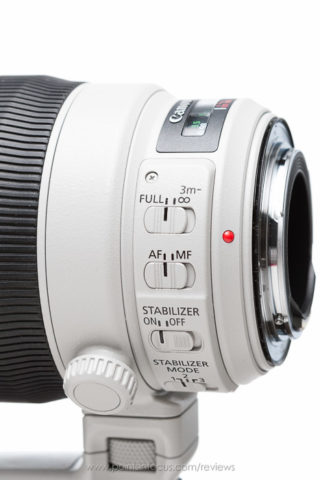 To address those issues, the EF 100–400mm f/4.5–5.6L IS II USM, like its predecessor, is equipped with an electronic focus limiter.
The switch, located on the left side switch cluster, allows users to select between two positions, full frame (0.98m to infinity) and half range (3m to infinity). Since this isn't a macro lens, there isn't an option to limit the lens to the closer half of the range.
Image Stabilization
The EF 100–400mm f/4.5–5.6L IS II USM is equipped with Canon's latest standard image stabilization system. Image stabilizations are typically rated by how many stops of shutter speed they'll allow you to use the lens below the expected hand holding rule of thumb. In the case of this lens, Canon rates the system at 4 stops. Meaning if you could produce camera shake free images at 400mm with a shutter speed of 1/500th without the image stabilizer, then you should be able to shoot at 1/30th with the stabilizer active.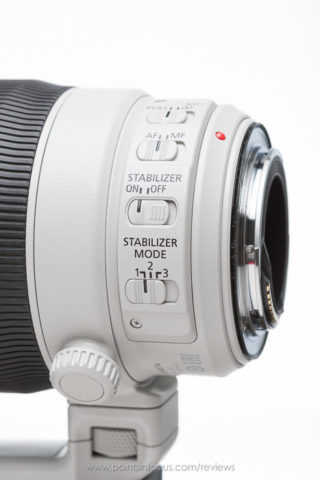 In practice image stabilization performance is affected by a number of factors, the most significant of which is the inherent shakiness of the person operating the camera and lens. A person who shakes a lot or is in an inherently unstable position will see the image stabilization system as being less effective.
With this lens, I've done two sets of tests. The first ones are on a 5D mark III being shot using the best technique I could manage.
| | |
| --- | --- |
| 400mm, 1/400th, f/5.6, ISO 800 | 400mm, 1/25th, f/22, ISO 800 |
| 400mm, 1/13th, f/32, ISO 800 | |
The image stabilization system in the EF 100–400mm f/4.5–5.6L I S II USM is compatible with being using while the lens is mounted to a tripod source. Though for very long exposures turning it off will insure that there isn't any drift and resulting blurring, and save some power.
Operating Modes
The new IS system on Canon's latest lenses now have 3 operating modes instead of the previous two.
Mode 1: Mode 1 is ideal for static subjects. It compensates for camera vibration in all axises that the IS system can address. Panning in this mode can result in reduced image quality and blur. This is because the IS system will try and keep the image from shifting, then reach the extent of it's adjustment and recenter.
Mode 2: Mode 2 is intended for panning with subjects. When the lens is set to mode 2, the IS system will only compensate for shake that's orthogonal to the direction of movement. That is if you're panning horizontally, it will compensate for vertical shake. Though I would add, the orientation of the pan doesn't really matter, the IS system will compensate for motion 90° to the direction of the pan, whether it's up-and-down, or left-and-right or if the lens is oriented to for portrait or landscape shooting.
Mode 3: Mode 3 is the new IS mode in the EF 100–400mm f/4.5–5.6L IS II USM. When mode 3 is activated the lens will process and compute the stabilization actions necessary but won't engage the actual drive system until the shutter release is pressed.
Canon claims mode 3 is ideal for following fast moving erratic subjects. Since the IS servos are only activated when the shutter release is pressed, it shouldn't have the potential for unwanted blurring that Mode 1 does. What you do lose is the stability the IS system brings to focusing accurately, though in the kinds of situations where you'll want to use Mode 3, it's unlikely that this will be an issue.
Mode 3 should also recede the power consumption compared to Mode 1 or 2 since the lens only drives the stabilization actuators briefly during the exposure instead of constantly.
Optical Performance
As one might expect from 16 years of engineering improvements, the optical formula of the EF 100–400mm f/4.5–5.6L IS II USM is full of improvements over its predecessor.
The new optical formula uses 21 elements in 16 groups, up from the 17 elements in 14 groups the first generation lens used. Of those elements, one is fluorite elements, one is super-ultra low dispersion glass, and 4 are aspherical. Aspherical lenses, combined with the various chemistries of the glass used allow the EF 100–400mm f/4.5–5.6L IS II USM to have minimal chromatic aberrations, coma, and other optical aberrations, and maximize contrast and resolution.
Coatings
One of the problems with all refractive surfaces is that any time there's a boundary like that some light will be reflected instead of passing into or out of the lens. This reflected light bounces around in the lens and can ultimately be bounced back towards the image sensor where it ultimately reduces contrast or causes visible spots of flare.
Camera makers address this by coating the lens elements in some way. Early coatings were designed to be 1/4 of the wavelength of one frequency of light. As a result, they cause the two reflected rays (one of the air-coating interface, and one from the coating-glass interface) to destructively interfere and disappear. However those types of coatings are specific to a single or vary limited range of wave lengths. That advanced into multi-layer coatings, which are still used in lenses today, including in this one.
However, the recent trend in optical coatings have been to use nano-scale structures to build a coatings that are dramatically better than the standard vapor deposition coatings that have been the only available options in the past. Canon has a number of these nano-scale coatings that they use in various lenses. In the case of the EF 100–400mm f/4.5–5.6L IS II USM, they've chosen to use their Air Sphere Coating technology. If you want to read more about the ASC system, and how it compares to Canon's other nano-scale coating, CPX had a good article on it.
The EF 100–400mm f/4.5–5.6L IS II USM also features Fluorine based coatings on the front and rear surfaces to resist finger prints, smudges, and oil. Though not strictly necessary for performance reasons, these coatings do make the lens easier to keep clean.
As photographers, we care about coatings because they're the biggest contributing factor to eliminating flare, ghosting, and improving contrast.
I haven't done any purpose driven flare testing, and likely won't be for some time. However, in every day practical shooting flare is so minimal of a concern with this lens that it's hardly worth talking about. To start with, there are simply very few times you'll be shooting into a flare prone light source.
That said, the one place where I have seen flare/ghosting show up in the past is when photographing the moon, and I've already done that with this lens with no obvious flare or ghosting in the process. All told, at least based on the field testing I've had the opportunity to do with this lens, flare and ghosting are exceptionally well controlled to the point of not being a concern.
Parfocal Stability
Some zoom lenses are designed to maintain focus position when zooming. These lenses are said to be parfocal in design.
Parfocal lenses are most sought after by videographers since it allows them to zoom without having to worry about the focus shifting. However, for still photographers, and especially those who use manual focus, parfocal lenses can be immensely useful as it allows focusing at longer focal lengths and the resulting higher magnifications.
Like most modern still photography lenses, the EF 100–400mm f/4.5–5.6L IS II USM is absolutely not a parfocal design. The non-parfocal nature of this lens is so significant that it's even called out in the manual that you must zoom the lens to the desired position before focusing or you will have focusing errors. In fact, the shift is significant enough that you can see it in the viewfinder at short to moderate working distances.
For still photographers, it's extremely important that you zoom this lens to the focal length you want to shoot at before you focus.
Breathing and Focal Length Stability
I've lumped these two concepts together because they're basically the same consideration taken from different perspectives. Many lens reviews in recent years have taken to comparing the "focal lengths" of various lenses by looking at the subject distance at which the compose the exact same image (usually a resolution test target). They then make a comment like, "lens x framed the test target at 30 feet while lens y did so at 35 feet, so lens x is probably not really Z mm at that setting.
The flip side of that coin is the perspective of the videographer who is looking at breathing. Breathing is caused by the focal length shifting as the lens is focus close or further away.
The two discussion are merely to sides of the same coin, does the lens maintain the same focal length over it's entire focus range, or does the focal length shift as the lens is focused.
That said, it's extremely important to point out two major points here.
First, for almost all lenses, the specified focal length isn't the exact focal length of the lens. Quite honestly, this is a good thing. It's far easier for us to talk about a 100–400mm lens than a 98.5–389.8mm lens. Moreover, in terms of what you're actually getting the variance is largely immaterial.
The second point is that focal lengths are specified at infinity focus. This is important because many lenses, especially internal focusing lenses, exhibit shifts in focal length as they're focused closer to the camera. Moreover, how much that varies will vary from lens to lens based on the internal design.
Without special attention to the design of the lens, something that isn't generally done for still photography eyes ,but is a requirement for video and cine zooms, most lenses will exhibit a shift in focal length when their focused. This is especially true of internal and rear focusing lenses, like the EF 100–400mm f/4.5–5.6L IS II USM.
Close Focus Distance and Maximum Magnification
The first generation 100–400 was Canon's closest focusing 400mm lens, and with that the highest magnification 400mm lens. However, in recent years Canon has been pushing their lenses to have even shorter close focus distances. The new EF 100–400mm f/4.5–5.6L IS II USM, is no exception to this, reducing the close focus distance from it's predecessor's 5.9 ft. (1.8m), to an amazingly short 3.22 ft. (0.98m).
The improvement in close focus distance is quite impressive. It beats the 5.74 ft. (1.5m) of the Nikon AF-S 80–400mm f/4.5–5.6G ED VR, the 8.86 ft. (2.7m) of the Tamron SP 150–600mm f/5–6.3 Di VC USD, or the 8.53 ft. (2.6m) of the Sigma 150–600mm f/5–6.3 DG OS HSM Sport.
The amazingly short focus distance also put the EF 100–400mm f/4.5–5.6L IS II USM at the top of it's class in terms of magnification. Without any assistance, at 400mm the second generation 100–400 has a maximum magnification of 0.31x at 400mm.
|   | Canon EF 100–400mm f/4.5–5.6L IS II USM | Canon EF 100–400mm f/4.5–5.6L IS USM | Nikon AF-S 80–400mm F/4.5–5.6G ED VR | Sigma 150–600mm f/5–6.3 DG OS HSM S | Tamron SP 150–600mm f/5–6.3 Di VC USD |
| --- | --- | --- | --- | --- | --- |
| Close Focus Distance | 3.33 ft (0.98m) | 5.9 ft (1.8m) | 5.74 (1.5m) | 8.53 ft (2.6m) | 8.86 ft (2.7m) |
| Maximum Magnification | 0.31x | 0.2x | 0.2x | 0.2x | 0.2x |
What's really quite amazing though is that this lens is absolutely capable of becoming a near macro in more ways than one. Teleconverters, extension tubes, and close up lens all will increase the maximum magnification, and the EF 100–400mm f/4.5–5.6L IS II USM is compatible with all of them.
Teleconverters increase the magnification literally by magnifying the output of the lens. Canon produces 1.4x and 2x verities, and the EF 100–400mm f/4.5–5.6L IS II USM is compatible with both of Canon's TCs. With a 1.4x TC added to the lens, the longest effective focal length is increased to 560mm, the aperture is reduced to f/8, and the maximum magnification is increased to 0.44x. With a 2x teleconverter you end up with an 800mm f/11 lens that has a maximum magnification of 0.64x.
A second approach to increasing magnification is to use extension tubes. Extension tubes improve magnification by pushing the lens further away from the sensor. This allows the lens to focus closer than it normally would, however it also removes the ability to focus at infinity while the tube is attached. The effect of the extension tube is dependent on the focal length of the lens and the size of the extension tube. Though extension tubes work best with shorter focal lengths, they have no optics and therefore degrade the image quality somewhat less than other options.
Canon makes two extension tubes one is 12mm and the other is 25mm. With the 12mm tube to the 100–400 mark II, the maximum magnification at the 400mm zoom position is increased to 0.38x at a focus distance of 2.89 ft (881mm). With a 25mm extension tube, the magnification should be 0.46x at a close focus distance of 2.67 ft (814mm).
You can go even further, too. The EF 100–400mm f/4.5–5.6L IS II USM is also compatible with Canon's 77mm 500D closeup lens to the front, and the maximum magnification is increased to 0.78x.
Moreover, in certain configurations, extension tubes, teleconverters, and the close up lens can be combined to further increase the magnification beyond these numbers.
That said, all of these options to increase the magnification for close up/macro photography will degrade the image quality of the resulting image some. While any of these techniques can be used in a pinch, and are great options for a traveling photographer that can't carry the weight of an extra lens, serious macro applications will be better done with a proper macro lens.
On the other hand, while having all this close up capabilities is nice, you do have to remind yourself that you're essentially shooting macro photography and act accordingly. Depth of field will be insanely shallow even stopped down. For example, with a 1.4x teleconverter at 400mm, the depth of field at the close focusing distance is about 2mm. If you're not shooting from a tripod, you'll probably be throwing away a lot of out of focus images.
Conclusions
Compared to its predecessor there aren't any places where the new EF 100–400mm f/4.5–5.6L IS II USM doesn't make big improvements.
Better build quality
Better image quality
Better image stabilization system
I'm not sure what can really be said beyond this is just an all around better lens than the EF 100–400mm f/4.5–5.6L IS USM was.
Lens Data
Lens Specifications

Optical Specifications
Focal Length
100mm – 400mm
Angle of View (Full Frame)
Diagonal: 24° – 6°10′
Vertical: 14° – 3°10′
Horizontal: 20° – 5°10′
Min Focusing Distance
0.98m / 3.22 ft.
Max Magnification
0.31x @ 400mm
Max Aperture
f/4.5 – 5.6
Min Aperture
f/32 – 40
Max Aperture by Focal Length
f/4.5 – 100-134mm
f/5.0 – 135-311mm
f/5.6 – 312-400mm
T-Stop by Focal Length
Aperture Design
9 blade, rounded
Optical Formula
21 elements in 16 groups
Elements/Coatings
1 Fluorite, 1 Super UD
Stabilized
Yes
Stabilizer Performance
4 stops
Stabilizer Modes
Mode 1 – Stabilize Both Axis
Mode 2 – Stabilize axis perpendicular to pan
Mode 3 – Stabilize for erratic motion
Breathes when Focusing
Some
Parfocal
No
Focus
Focus Type
Rear
AF Type
Ring USM
Full Time Manual
Yes
Focus Ring Rotation
204° from MFD stop to ∞ mark
233° from MFD stop to ∞ stop
E-TTL 2 Distance Info Provided
Yes
Distance Scale/Type
Yes, Window
Focus Limiter? / Positions
Yes / 0.98 m (full)→∞, and 3 m→∞
Zoom
Type
Ring
Zoom Lock
Yes, at any focal length
Build
Length
7.6″ / 193 mm
Diameter
3.7″ / 94 mm
Weight
3.46 lb / 1570g
Material
Metal barrel, metal mount
Finish
Off White
Filter Threads
77mm
Weather Sealed
Mostly
Misc
Lens Hood / Included
ET-83D / Yes
Tripod Ring Include / Removable
Yes / Yes
Extender Compatible
Yes
Case / Included
LZ1326 / Yes
2016 Camera AF Data (5D Mark 4, 1D X mark 2)
 
AF Group:
F including with 1.4x III (J with 1.4x I/II)
AF Points:
All 61 active
21 central cross active
(at f/8 with 1.4x I/II; 9 active, 1 cross type)
Group Diagram(s)
(Group F)
(Group J)
2012 Camera AF Data (5D Mark 3, 1D X)
 
AF Group:
E (H with a 1.4x TC)
AF Points:
All 61 active
21 central cross active
Group Diagram(s)
(Group E)
(Group H)