Canon EF 50mm f/1.8 II Lens Review
10 min read
Overview
Before digital, the 50mm lens was the standard. Moreover, it's generally said the image produced is similar to what's seen by the human eye. This made it a starting point from almost all photographers since it was easy to visualize the photograph before wasting film.
Digital has changed all of this; the introduction of crop sensors changes the lens's field of view and increases the apparent focal length. Even then, the lens's low cost still makes it a popular choice among many photographers especially those looking for a fast lens.
Canon's EF 50mm f/1.8 II is the second generation of Canon's EF-mount 50mm f/1.8 lenses, though its design inherits a legacy that dates to the late 1800s. Its f/1.8 aperture makes for good low light performance and shallow depth of field as well. Did I mention it's also the cheapest lens in Canon's catalog?
Build and Construction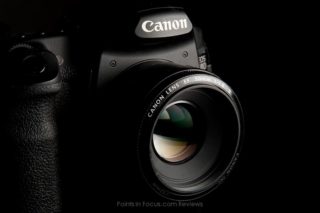 Optically the EF 50mm f/1.8 II has 6 element 5 groups and appears to be a double Gauss or modified double Gauss design. The double Gauss lens design dates back to the late 1800's and is simple, well understood, and very refined. This lens's optical design starts from a solid foundation. Further, its slow speed, for 50mm primes at least, tends to yield better sharpness and less distortion.
It's not only the optical design that makes the EF 50mm f/1.8 II inexpensive, Canon has cut out every possible feature from its construction.
The body and lens mount are plastic. I actually wouldn't be surprised if the only things that were plastic in this lens were the glass elements and the electrical system. The build does make the lens incredibly light, 4.6oz (190g), though I'm not sure that makes much of a difference. That said, somewhat surprisingly the lens doesn't feel nearly as flimsy as it sounds.
Unlike its predecessor, the mark II there is no distance scale. Though it's nice to have distance scales, they are becoming increasingly useless on auto focus. Especially as features, like aperture depth of field marks, are omitted from designs.
The EF 50mm f/1.8 II also uses a cheaper micro-motor focus motor instead of a micro-USM or ring-USM focusing motor. The motor choice, however, doesn't really affect autofocus speed, even with the lens's overall linear extension design[i] there simply isn't enough mass to be an issue. The micro-motor and gearbox is certainly louder than a ring-USM based motor but not really enough to be an issue or a distraction.
The lens lacks full-time autofocus, so when manually focusing the lens the autofocus system must be disengaging with AF/MF switch to MF. Failing to do so can damage the autofocus gearbox. Additionally the focus ring rotates when the lens focuses, so care is needed to avoid turning it or preventing it from turning when auto-focusing as well.
In an effort to further cut costs, the EF 50mm f/1.8 II doesn't have a built in provision for a lens hood. However, the front element is recessed removing some of the need for a lens hood. That said, Canon does provide an optional snap -on lens hood in the form of the ES-62 kit. Another alternative is to mount a screw in lens hood on the filter threads.
Speaking of filter threads, the EF 50mm f/1.8 II's has 52mm filter threads. However, because of the lens and hood design using them for anything other than a polarizer or special effect filters will increase the lens's susceptibility to lens flare.
Performance
The EF 50mm f/1.8 II tests well in optical tests for its price. This is born out in real world use; the images tend to be acceptably sharp even when wide open though the corners are always a bit weak even stopped down. Vignetting is never completely removed on a full frame camera, even stopped down, showing about a 1/3rd stop in the extreme corners. On a crop camera, there's no appreciable vignetting at all, even wide open.
The biggest potential problem with this lens is the autofocus system. My experience is that it's spotty at best, and performance is variable depending on many factors.
The copies I've handed have had problems repeatedly focusing on a consistent point, even in carefully controlled situations where there was nothing else to focus on and no camera motion. What will happen is the lens will front or back focus depending on the direction it's focusing in. Even with AF micro adjustments, the problem persists, though you can typically get one direction or the other to be accurate, just not both.
What's in the Box
What Canon ships with the lens is underwhelming at best. The retail box nets you the lens, a rear cap, a front cap, and a warranty card. As I said, there's no lens hood shipped with the lens, that's a $30 extra. Nor is there a pouch or case included.
Uses
On a full-frame digital or film camera the EF 50mm f/1.8 II is a normal lens, meaning it produces images that tend to have the same perspective as something view by the naked eye. It sees uses in journalism and anywhere where accurately portraying the environment is necessary. It's also an acceptable lens for full body portraits.
On a Canon crop body the EF 50mm f/1.8 II becomes a short telephoto lens, with an angle of view similar to that of an 80mm lens on a full frame camera. This is at the short end of focal lengths commonly used for head and head and shoulder portraits. However, it also can make the lens difficult to work with for more general types of photography when in small rooms.
Additionally, the EF 50mm f/1.8 II is the cheapest fast lens Canon makes. This results in it being frequently recommended as a lowlight lens for beginner photographers to complement their 18-55mm kit lenses.
Verdict
Why the 50mm f/1.8 II remains popular is beyond me. Actually, not really, it's cheap and fast, and most people fall over when they find out how expensive a good lens is. Even its half-stop faster better-built cousin, the EF 50mm f/1.4 USM, is more than 3 times as expensive.
The EF 50mm f/1.8 II is commonly recommended for most entry level photographers as a low light lens to pair with their Kit 18-55. This is something I don't agree with; mostly due to the potential for autofocus issues and the tighter field of view.
When I bought my copy of this lens they were running for about $65, at that price, even with any issues, it's hard not to pass on. At the time of this writing, the lens is retailing for $100 or more. At that price, I have a hard time recommending the lens at all.
While I'm not suggesting everybody needs $1000 L glass, there are better alternatives in the sub $500 range, unfortunately, just not in the $100 range.
One of this is Tamron's well-regarded SP AF 17-50mm f/2.8 XR Di II. It offers virtually the same range as the kit 18-55 lenses with between a ½ and 2 stop fast aperture. Another alternative is Sigma's 30mm f/1.4 EX DC HSM; it retains the normal field of view, adds a half stop faster aperture, and adds a ring-type ultrasonic motor for silent full time manual focusing. The final alternative is Canon's own 50mm f/1.4 USM; virtually identical to the f/1.8 mark 2 but with a half-stop faster aperture and silent full-time manual with an Ultrasonic motor.
Personally, I don't think skimping on lens quality is a good way to go. The inexpensive lenses don't tend to hold up as well, more frequently have issues, and don't retain the value in resale should you want to sell them.
Between the potential problems, and the availability of more flexible alternatives I say pass on Canon's EF 50mm f/1.8 II.
In short: Save your pennies and get something better.
Lens Data
2012 Camera AF Data (5D Mark 3, 1D X)
AF Group:
A
AF Points:
All 61 active
All 41 cross points are cross sensitive
5 center cross points are High precision
Group Diagram
Optical Specifications
Focal Length
50mm
Angle of View (Full Frame)
Diagonal: 46°
Vertical: 40°
Horizontal: 27°
Min Focusing Distance
0.45m / 1.5 ft.
Max Magnification
0.15x
Max Aperture
f/1.8
Min Aperture
f/22
Max Aperture by Focal Length
f/1.8 @ 50mm
T-Stop by Focal Length
t/2 @ 50mm
Aperture Design
5 blades
Optical Formula
6 elements in 5 groups
Special Elements/Coatings
Stabilized
No
Stabilizer Performance
N/A
Stabilizer Modes
N/A
Breathes when Focusing
Parfocal
 N/A
Focus
Focus Type
Overall Linear Extension
AF Type
Micro Motor
Full Time Manual
No
Focus Ring Rotation
~90°
E-TTL 2 Distance Info Provided
Distance Scale/Type
No
Focus Limiter? / Positions
No
Zoom
Type
N/A
Zoom Lock
N/A
Build
Length
1.61″ / 41mm
Diameter
2.68″ / 68.2mm
Weight
4.6 oz /130g
Material
plastic barrel, plastic mount
Finish
Black
Filter Threads
52mm
Weather Sealed
no
Misc
Lens Hood / Included
ES-62 / No
Tripod Ring Include / Removable
N/A
Extender Compatible
No
Case / Included
LP1014 / No
---
[i] Overall linear extension lenses shift all of lens elements to focus instead of just a few internal elements.