3D Printed Ideas' Lee System Bayonet Adapter (Badpter) Review
10 min read
Back in March of 2014, I reviewed 3D Printed Idea's 3D printed bayonet adapter for Cokin's Z-Pro system, in concluding that review I noted that Hector from 3D Printed Ideas was working on a Lee version. Fast-forward 3 months, and Hector has finished the Lee adapter and sent me one to review.
Full disclosure; unlike most of my reviews, this item was not purchased by me at retail. It was provided by the manufacturer for me to test and evaluate, at no cost to myself.
You might be wondering why bother with this adapter when Lee already makes very nice machined aluminum adapters for their holders.
The key idea here is to utilize the lens's hood mount to mount the filter holder. This solution has many advantages. For starters, it's much faster to mount and unmounts, requiring only a quarter turn to lock on to the lens. It also means you can use a wider angle lens without removing the protective filter, or use a thin (5mm like a B+W XS-Pro) polarizer without removing it or having it accidentally be adjusted when rotating the rectangular filters.
For example, if you're using a Canon EF 16-35mm f/2.8L II USM, the bayonet mount allows you to retain the front protective filter needed to complete the weather sealing, and reduces the interference from the filter holder slightly compared to a Lee wide-angle adapter mounted to the filter.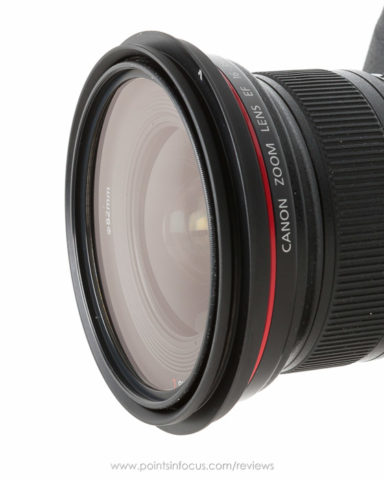 The build quality of the new adapter is greatly improved over the fully 3D printed Cokin adapter I tested previously. The new Lee adapter now utilizes a machined aluminum outer ring, with a 3D printed plastic insert for the bayonet. This obviously makes the ring much more rigid, which in turn eliminates my complaint with the Cokin adapter that the adapter flexed making it harder to get off the camera.
My C88L Badpter (Canon, 88mm hood diameter, Lee filters) weighs in at 20 grams; making it 1 gram heavier than the 82mm Lee wide-angle adapter it replaces in my kit. The finish is a matte black anodizing, which I honestly like the looks of more than the glossier black finish Lee uses.
The fit of my copy is outstanding. It was little snug on my 16-35mm f/2.8L II USM when I first attached it, but after a couple of attach and release cycles, it loosened up just enough to be snug but not overly tight. After the first couple cycles, I haven't noticed any change in snugness with the adapter. Personally, I think a small amount of initial tightness and wear is much better than the adapter being too loose.
I expect, much like the Cokin adapter I tested previously, there will be some lens-to-lens variation depending on how worn the lens's hood mount is. Since my 16-35mm f/2.8L II USM is the only lens I have that uses this mount design, I was unable to test the fit on multiple lenses.
For testing purposes, the most challenging situation for any filter setup is when used on an ultra-wide angle lens. Lee suggests that their regular holder mounts are only good for 24-28mm lenses on a 135-format frame. They sell a wide-angle adapter that lets you take things down even wider, potentially all the way to 16mm lenses depending on whether or not you use a protective filter, and the exact lens in question.
The 3D Printed Ideas Badpter is designed to provide clearance for a standard 5mm thick UV/protective filter. That will also allow one to use a B+W XS-Pro circular polarizers or an equivalent 5mm thick polarizer. This obviously means that a Lee wide-angle adapter screwed directly into the lens's threads will interfere less than the Badpter does. However, it also means giving up a protective filter (needed for weather sealing in some cases) or using a smaller thin polarizer instead of trying to find a way to mount the Lee 105mm polarizer without it interfering.
For my tests, I wanted to use the worst-case scenario I could come up with. Since less wide-angle lenses won't vignette regardless, I did my tests using a Canon 16-35mm f/2.8L II USM lens at 16mm. Moreover, since this lens breathes when focusing, and at the closest focus distance, it's considerably wider than when focused at infinity, I focused the lens at the closest focus position.
As expected, the 3D Printed Ideas' Badpter preforms slightly better than the Lee wide-angle adapter screwed into the filter.
With 2 slots in the adapter (left side), when square to the lens, there is virtually no difference in vignetting between the Badpter and the lens with just a protective filter. This is in comparison to the slight darkening in the corners see with the Lee wide-angle adapter. In the rotated position, both the Lee wide-angle adapter and the 3D Printed Ideas' Badpter interfere, but there's markedly less interference.
With 3 slots on the adapter (right side), neither the Badpter nor the Lee wide-angle adapters prevent interference. Both darken the edge of the frame significantly when aligned, and produce significant interference when rotated to 30° angle.
The performance with respect to vignetting is right on par with what I expected. Moreover, with the 16-35mm f/2.8L II USM, the minimal amount of vignetting either with 2-slots rotated, or with 3-slots squared to the frame, will be removed if you use geometric distortion correction on the images shot.
The final consideration I wanted to look at is performance with Lee's Big-Stopper. Lee's system is designed around sealing light leaks to prevent issues with their Big Stopper. With the normal system, all the joints form light tight interfaces; the filter screws, the adapter/holder joint, and finally the adapter/holder front surface forms a surface that a gasket can be pressed against forming a complete seal.
In candling the joints with a bright flashlight, I can't detect any leaks from either the bayonet mount or the adapter-holder interface with the Badpter. So there doesn't appear to be any problems in that respect.
| | |
| --- | --- |
| Profile of a 3D Printed Ideas' Bayonet Adapter. | The profile of a Lee Wide angle adapter. |
The front surface is a different story. Lee's adapter fronts are flat so that there's always a 5mm or 10mm front surface that fits inside the holder. This insures that the big stopper forms a light seal all the way around the perimeter of the square gasket on the back. The front surface on the 3D Printed Ideas' Badpter, is beveled inward so this landing area doesn't exist. The bevel however, facilitates being able to rotate a screw in polarizer filter that's attached to the lens without having to remove the Badpter.
I tested the 88mm version for the Canon 16-35mm f/2.8L II USM, which meant that the 82mm filter I have on the lens makes the required light seal and everything works perfectly. However, for smaller diameter lenses, even with a 5mm thick filter on the lens, the potential exists that light could reflect off the inside face of the Big Stopper and cause unwanted bight spots in images.
For me, this hasn't been an issue at all, in fact I didn't even notice the problem until I deliberately thought about testing the case of a big stopper and no filter. The 82mm x 5mm filter I keep on my EF 16-35mm f/2.8L II USM to keep it weather sealed also completes the light seal. However, for smaller diameter lenses this could be much more of a problem. A 77mm filter fits inside the gasket on the Big Stopper, so it won't make a proper seal meaning even with a 5mm thick filter, there will still be a path for stray light into the camera.
3D Printed Ideas' Badpter is available in versions that support a number of Canon, Nikon, Tokina, and soon Sigma lenses. The complete list can be found here. Hector has also told me that he's working on support for the Canon 16-35mm f/4L IS USM and Canon TS-E 17mm f/4L, though they're not currently available.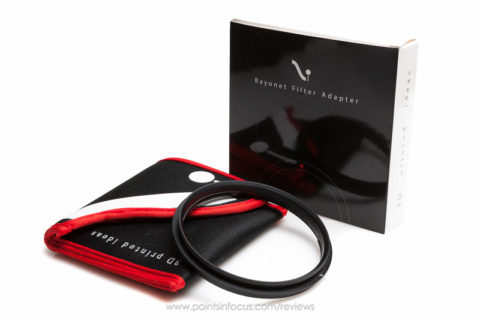 Current pricing is €38, which is about $50 US. This is more than fair compared to the $60 that Lee's wide-angle adapters are currently selling at. Badpters are available directly from 3D Printed Idea's store. Additionally, if you're interested in purchasing a Badpter after reading this review, you can use the coupon code "pointsinfocus" at checkout and get €6 off.
All told, I find the 3D Printed Ideas' Badpter to be a really solid addition to Lee's already solid filter system. Since getting my review copy, I've tossed my Lee 82mm wide-angle adapter ring into a drawer and put the Badpter in my filter kit in its place.
Buy Badpter from 3D Printed Ideas
Use the coupon code "pointsinfocus" to get €6 off.