ThinkTank Photo Artificial Intelligence 15 v3 Laptop Case Review
5 min read
ThinkTank's Artificial Intelligence 15 v3 isn't a camera bag. At best, I would describe it as a laptop sleeve; though in some ways I would argue that they're the best possible kind of no-nonsense laptop case or bag that you can get. I would be lying if I said this wasn't in many ways exactly what I've always wanted for a laptop bag, and yet it's singularly something that simply couldn't exist without the modern laptop and the performance envelope that they live in.
The simplicity of the Artificial Intelligence sleeves are founded on the removal of all the now unnecessary aspects of laptop cases of yore. With modern processors and batteries giving 8 or more hours of run time, there's no need for extensive pockets to carry bulky AC adapters and cords. With thinner laptops, there's no need for a massive pocket and straps to hold it. With lighter laptops, the overall handle situation can be thinner and lighter as well.
When you take away all the excesses demanded by classical laptop limitations, what you're left with is a compact sleeve sized to hold a laptop, some miscellaneous bits, and some documents, or if you're really going for the technology overload, a tablet as well.
The core of ThinkTank's Artificial Intelligence cases is a lightly padded zippered pocket for your computer. ThinkTank sells the case in 3 sizes, 13-, 15- and 17-inch each designed to take a laptop with the respective diagonal screen size.
I bought the Artificial Intelligence 15, which is sized to hold most 15 and 15.4 inch laptops, including, or perhaps most importantly for me, a 15-inch MacBook Pro Retina. Though for the sake of testing I'm showing it with a circa 2005 vintage Acer Ferrari 4000—which is a 15.4" laptop that's quick thick at 1.3". That said, there certainly are 15" laptops that won't fit. I tried a Lenovo W640 mobile workstation in the bag and it didn't fit.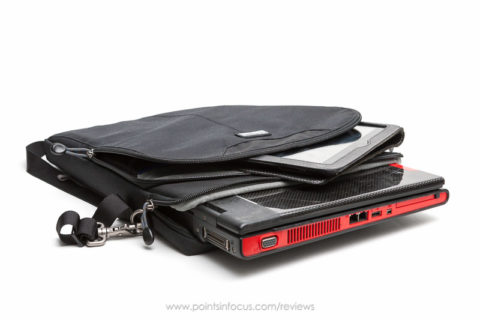 A pair of ancillary pockets complements the main compartment. On the front side, there is a zippered accessory pocket, and on the rear, a Velcro closed document pocket.
If your aim is technological overload, both the accessory and document pockets are big enough to hold a 10" tablet like a full sized iPad. However, I found with a thick laptop like the Ferrari I tested with, the front accessory pocket held my tablet better.
All told, even though the accessory pocket can bulge out and is the full size of the bag, space is at a premium, this will be especially true if you're traveling with the Artificial Intelligence stowed in one of ThinkTank's bigger camera bags. You can put a mouse in the accessory pocket, but you'll probably want as thin of a travel mouse as possible. The same goes for a power adapter, Apple's 85W MagSafe 2 adapter for the MacBook Pro Retinas should fit too, though I haven't tested it.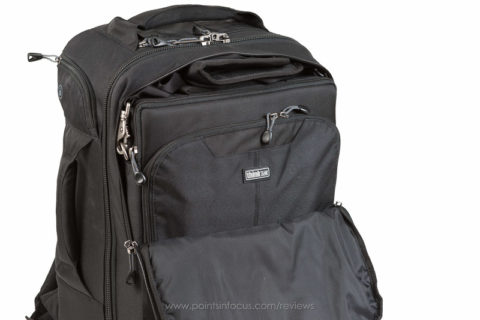 The other big selling point for me is the interplay with ThinkTank's bigger camera backpacks, and especially when traveling. I bought my Artificial Intelligence when I ordered my Airport Commuter backpack expressly for flying. While I'm moving around in general I can keep the Artificial Intelligence in the Airport Commuter's computer pocket, meaning I have one less bag to worry about picking up or losing. On a plane, I can store the Airport Commuter in the overhead bin, but yank the Artificial Intelligence and my computers to keep at my seat for in-flight entertainment or just to get some work done.
Ultimately, I had originally envisioned really only using the Artificial Intelligence 15 when I traveled. For less long distance journeys, my thought would be to revert to an old school laptop bag. After having put my hands on the Artificial Intelligence 15, I'm seriously thinking this is the way to go all the time. There's no need to carry a huge bag when a small one will do.
ThinkTank's bags are available though many local and online retailers, as well as through ThinkTank directly. ThinkTank encourages people to support and buy from local retailers. They do this in part by insuring that all ThinkTank retailers price their products identically, including ThinkTank's own online store. For something like the Airport backpacks, being able to actually see and handle the bags before purchase is probably not a bad idea anyway.