ThinkTank Photo Belt System Review
25 min read
Belt packs offer photographers a much more accessible way to carry their gear than in a backpack, and in someways even over a regular shoulder bag. Since there isn't a lot to talk about each piece individually, I've combined all of the components and the my experiences with the system as a whole into this one review.
I bought my first set of ThinkTank belt pack components for a job I was doing at a vintage motorcycle show. I needed to add some extra capacity to my backpack, and making changing lenses or adding a flash a lot easier. One of the nice things about ThinkTank's belt system is that you can piece together what you need, which is what I've done.
Piecing together a kit
My first set of gear was a pair of ThinkTank Skin 75 Drop Downs, a Skin Strobe, and a Pro Speed belt to hold everything together. One of the facets that I've always liked about ThinkTank's system is that their stuff plays well together. For example, all of their backpacks have a means to attach their belt system belts in place of, or in addition to, the normal thin nylon webbing. And having a big padded belt like the Pro Speed Belt instead of a little 2″ bit of webbing is really nice when you have a backpack full of gear. As I started doing more and more bird photography, needs changed and so did the pouches I used. I added a Lens Changer 15 to my belt so I could quickly swap out a teleconverter. The last major addition I've made to my belt system was prior to my trip to Alaska in the spring of 2015. For that trip, since I knew I was going to be on a lot of relatively tight boats and planes for excursions I elected to work out of my belt system for that instead of trying to take a backpack. For added support I picked up a Pixel Racing Harness, which is basically suspenders for ThinkTank's belts, and a Speed Changer for my camera body.
Running and Gunning with Various Configurations
For me, the best part of ThinkTank's system as a whole, and especially with the belt systems, is the ability to make everything just kind of work together. I don't necessarily use all of my belt packs together, or even many of them together, instead what I find works best for me is to mix and match the pouches that are most useful for any given task. Let me give a few examples.
Pouches as an Accessory
When I've been out shooting birds at some of the local wetlands, my camera bag of choice, is my Street Walker Pro backpack. However, instead of using the stock webbing waist belts, I use the Pro Speed Belt since it provides significantly better padding and comfort. On the Pro Speed Belt, I'll usually have my Lens Changer 15 and my Skin Strobe. The Lens Changer 15 gives me a convenient place to drop my teleconverter when I need to lose it in a hurry. And the Skin Strobe provides the same functionality for my strobe. Since those kinds of days basically never see me changing out lenses, I leave the bigger pouches at home. I've found that this setup is very efficient for scenarios where I need to maybe have extra glass with me, or maybe I'm not just shooting birds that day and don't want to leave a bunch of camera gear in a hotel room or in the trunk of my car, yet still not encumbering. Even without a backpack, or the shoulder straps, sticking a couple of small light pouches, like the Lens Changer 15 or the Skin Strobe on either a ThinkTank camera belt, or even just a heavy duty regular belt also works quite effectively in a pinch.
The Full Belt Rig
When I went to Alaska in the spring of 2015, I expected to be in a lot of situations where a backpack wouldn't be ideal. In small environments like a boat or plane, a backpack is more of a hassle than a help. So I decided for that trip that I was going to try and work almost entirely out of my belt packs. That's when I picked up the Speed Changer and Pixel Racing Harness. In practice, I found this setup to be less than ideal for me. Most of the glass I shoot with, and almost all of the glass I used in Alaska, is relatively big telephoto gear (70–200s and 100–400s), and big lenses mean big expanded pouches. Yes, you can put 2 Skin 75 Pop Downs on a belt and work, but once you've got a 100–400 in one and a jacket in the other, they become quite bulky. The other thing I discovered was that lots of belt packs really do limit your ability to sit down. My experience with running a full belt rig is that the utility of it is directly proportional to the kind of gear you're using at the time. A couple of big lenses and a flash and I feel decidedly out of my comfort zone with respect to I've done a similar setup in the past, but I was mostly using mid focal length lenses then, and that seemed to work considerably better.
Attaching Pouches to Belts
ThinkTank has developed their own proprietary belt system that isn't all that bad. It uses the typical velcro closed flap approach, where you loop a flap on the pouch over the belt and attach the flap back to the pouch with velcro.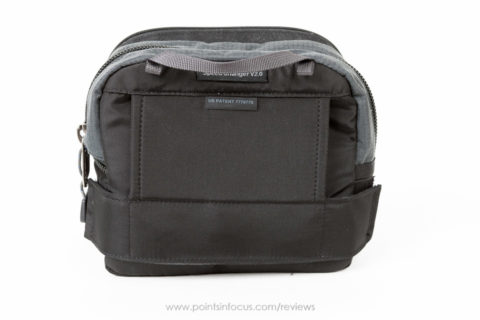 The twist on the system is that there's also a plastic tongue that matches up with webbing loops on the belt. When the tongue is in the loop and everything is secure, the pouch is locked in place. However, if you leave the tongue out of the loop, the pouch can be slid along the best.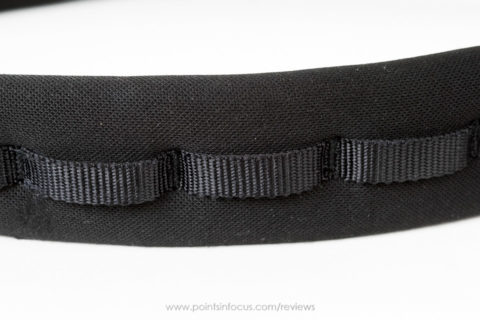 The only real objection I have to ThinkTank's mounting system is that while it works great on a belt, it's not readily amendable to attaching to a bag side or other load bearing equipment. For example, the two Lowepro pouches I have from before I started using ThinkTank gear, have narrower attachment straps, and could be used on matching loops sewn into Lowepro's backpacks. Similarly but differently, many other camera bag and accessory makers are moving to the MOLLE standard. This is the standard used by the US and many NATO militaries fro attaching load carrying equipment to belts, vests, and bags. Its multiple loops that interweave through multiple rows of webbing provide an extremely durable way to attach gear. Given the designs of the two systems, I don't think it's unreasonable or unrealistic to think that ThinkTank could potentially adapt their slide locking belt connectors to also support being used on a MOLLE equipped bag or vest.
Pro Speed Belt

ThinkTank offers 3 tiers of what they call camera belts. In increasing order of padding and size these are the Thin Skin Belt, the Pro Speed Belt, and the Steroid Speed Belt. I went for the middle tier primarily because it was the most padded option that was still compatible with ThinkTank's backpacks; or at least the ones I own. I have not at all ever regretted this choice. I find that the Pro Speed belt is the right balance of comfort and utility that I can use pretty much everywhere even as a backpack belt strap — which is how I most frequently do use it. Because the bulk of the Pro Speed belt is fixed padding, it is semi fitted. They're sold in 4 sizes; small-medium, medium-large, large-xl, and xl-xxl.
Belt Size
Waist Size
inches
cm
Small-Medium
27–34
68–85
Medium-Large
32–42
81–106
Large-XL
38–48
96–122
XL-XXL
44–64
112–162
Size ranges do overlap. Also keep in mind, that if you're wearing the belt with one of ThinkTank's backpacks, the backpack's attachment system will require the belt to be a little looser since it generally goes behind some of the padding.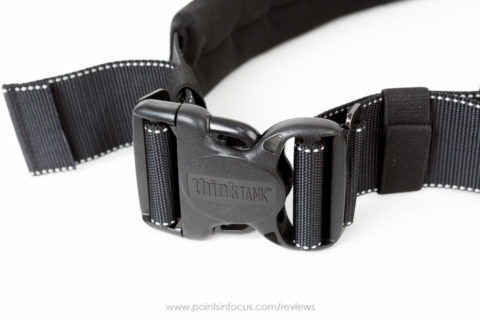 About the only real complaint I have with the Pro Speed Belt is the length adjustment system. It's not that it's bad, it's just a little different. Most belts, in my experience at least, would use one of those over-under dual loop plastic slide/reducers across both side of the looped strap to take up the reduction. Instead of that, ThinkTank uses a single metal slide/reducer on the free end that bumps up against the buckle to set the length.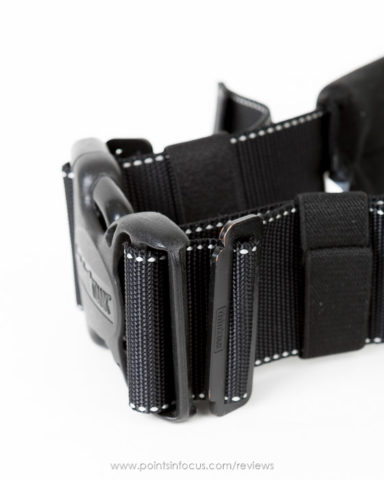 Admittedly this does take up much less room allowing for much more adjustability for the given material. On the other hand, I find that frequently the stop block gets lodged under the buckle pushing the buckle away from the plane of the belt and in the process changing the actual length of the belt ever so slightly. It also means that the buckle sticks out a bit more from your waist.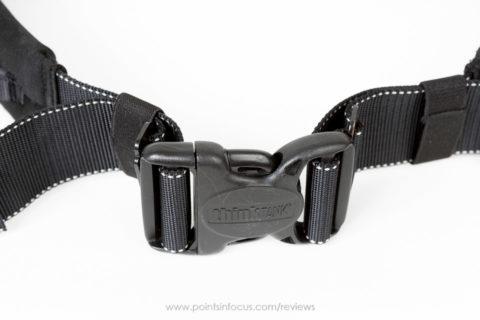 Admittedly, I've spent a paragraph or two talking about this now, which might make it sound like a much bigger deal than it actually is. My intent here is more to inform than anything else. In practice, ThinkTank's adjustment system doesn't notably slip which is a big plus. Further, even though it can get behind the buckle and possibly slightly alter the length, I've never had it become uncomfortable or overly loose in doing so, nor have I ever had it catch on things or otherwise be a problem. If anything, this is a minor nit. Speaking of minor nits, the other minor nit I have is the way ThinkTank managed the loose end of the adjustment strap. They just have a loop of elastic webbing around the belt for you to tuck it into. It works, but if you do have to fold up all of the tail to keep it from interfering with the looking loops on the strap.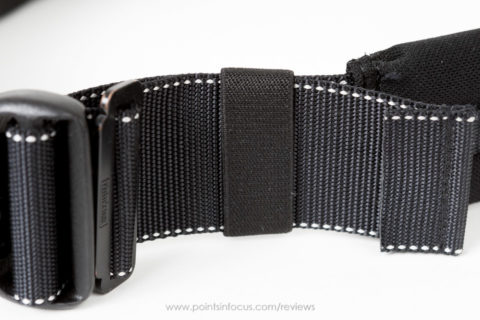 Pixel Racing Harness V2.0

It goes without saying, camera gear is heavy. Doubly so if you're shooting with fast pro gear, pro sized DLSR bodies, and the like. Belts on backpacks have always been a great way to distribute the load from ones back and shoulders to one's hips where it not only is much more comfortable but healthier. That said, at the same time, a belt alone doesn't have much going for it in the way of keeping it on your hips. You may want to use the belt to carry most of the load, but having some suspenders to keep that load from sliding down or off is certainly helpful. Keeping your belt, that now has several pound of camera gear on it, on your waist is the entire point of the Pixel Racing Harness. The Pixel Racing harness mounts very secure to the belt using 3 straps that loop through the same loops that the belt pack use to lock, and secure in place with quick release clips.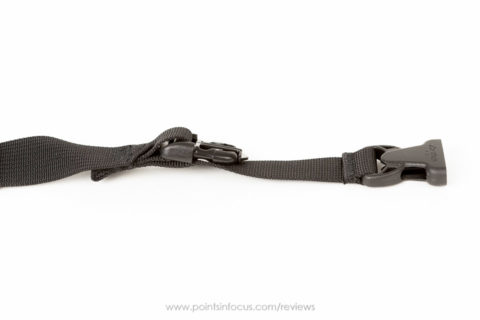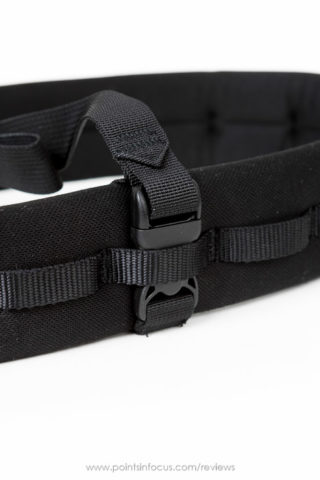 One might complain that the straps aren't very well padded, but then there's a real limit to how much weight you can put on the belt too. In practice, I find they work good enough in the field that they're not really a big deal.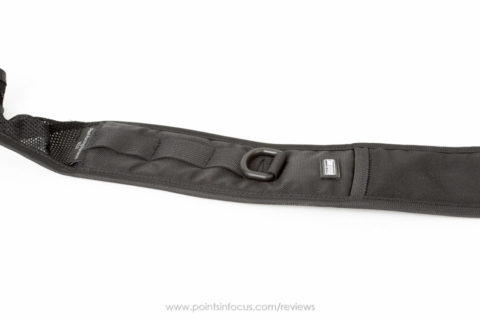 Like all of ThinkTank's backpack straps, the Pixel Racing harness also has the webbing loops used for their Camera Support Straps as well as d-rings for attaching anything with more normal quick release mounts. The D-rings also provide a mounting point for a Black Rapid Backpack strap, however, a lower mounting point for that is a tricker proposition. Though, I haven't yet tried using the Black Rapid strap with this harness yet.
Skin 75 Pop Down

A belt system isn't much of a belt system without pouches to put things in. ThinkTank offers two major lines of belt packs, the Skin series and their regular pouches, which don't get a fancy moniker. The Skin pouches are intended to be light weight and compressible, and they are. However, they achieve that end by sacrificing padding. The Skin 75 Pop Down is the largest of the Skin pouches for lenses. It's big enough to hold a 24–70 f/2.8 class lens in the stored position (i.e. with the hood reversed) without being expanded. Or a modern Canon 24–70mm f/2.8L USM II would fit with the lens hood in the shooting position. Or you can expand the pouch to hold something as large as a 70–200mm f/2.8 or 100–400 class zoom, even with the lens hood in the shooting position. In addition to the main flap, the main compartment also has a draw string closure mechanism to insure that nothing falls out. The draw string is especially useful as Think Tank has designed the velcro closure system with a "sound silencer" panel that prevents the main flap from sticking to the pouch body. Thus these are excellent pouches for situations where the "RRRRIIIIIPPPPPP" of a velcro secured lid being opened would be inappropriate or draw attention.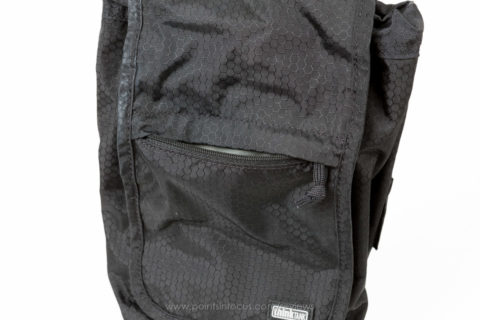 In addition to the main compartment, the Sink 75 Pop Down, like the rest of the Skin pouches, has 2 secondary compartments/pockets. One is a small zippered pocket on the outside of the cover. This is fairly large all things considered, but it's really only big enough for flat things. I usually keep a microfiber lens cloth in one of mine. The second pocket is a relatively large open pocket under the flap. This is big enough to store spare batteries, a 77mm or 82mm circular polarizer in it's case, or a cable/timer release.
| | |
| --- | --- |
| All of the skin pouches also have this inner secondary pocket under the flap. It's secured shut by a small tab of velcro (unseen) and runs the full width of the front of the bag. | All of the Skin series pouches use velcro to secure the cover flap. In situations where the sound of velcro being separated would be distracting, the velcro covers can be silenced by flipping down the sound silencer tab. You can also partially close the tab to reduce the noise but not completely eliminiate the velcro locking. |
The final bit of the Skin 75 pop down is the included rain cover. This is stored in a zippered pocket on the bottom of the pouch, can be detached from the pouch for cleaning or drying.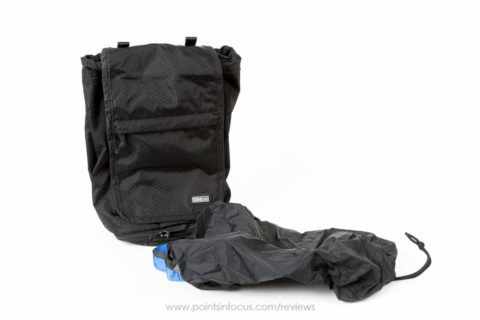 Finally, I do need to point out the pouch you see featured and discussed in this review is the v1.0 version. Since I bought my skin pouches, ThinkTank has updated the skin pouch designs with a number of minor but very nice improvements. The exact improvements vary from pouch to pouch, but they include things like.
A top carry handle (instead of just having two little webbing loops)
Improved opening sizes to better fit more of todays larger pro lenses
A one handed drawstring closure (the draw string on the V1 does need two hands)
Better more durable materials
While the improvement certainly are nice to have, I didn't find them worth upgrading from the originals. And quite honestly, given that the originals are quite good anyway, I really don't see how the improved versions would be worse.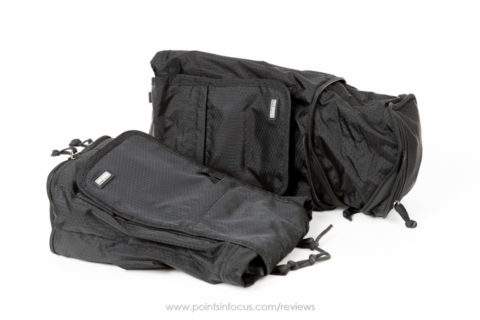 Skin Strobe

Designed for a single flash, the Skin Strobe is the smallest of the skin series pouches. Yet even with its small size, the feature set is not any different than any of the larger Skin pouches. There's still a zippered accessory pocket on the outside of the top flap, and a larger accessory pocket on the front face inside the top flap. Of course both of these are smaller than those on the Skin 75 Pop Down, but they're still quite handy. The larger of the two compartments is tight, but it'll hold useful loads. I'll frequently put either spare AA batteries in an inline 8-battery plastic case, or a cable release in this pocket. I've also used it to hold a small book of 3" x 3" gels that fit in my 600EX's snap on gel holder. The smaller zippered compartment is considerably smaller than the ones in the Skin 75, making it really only useful for a microfiber lens cloth or something of similar size. Also like the larger skin cases, the Skin Strobe's top cover has the "sound silencer" panels to stop the velcro from sticking shut, as well as the draw string to close up the main pocket so stuff doesn't fall out. Also like the other skin pouches, there's an included detachable seam-sealed rain cover that stores in its own special zipper pocket on the bottom. Also, like the Skin 75, my Skin Strobe is the earlier v1.0 model not the newer v2.0 model. The newer models
Lens Changer 15 V2.0

As much as I like the Skin components, they don't fill every niche. One of those niches is a pouch for small lenses, like a 50mm f/1.8 prime or a teleconverter or extension tube stack. This is where the rest of the ThinkTank belt packs come into their own. Where the Skin series trades padding and form for compressibility and lightness, the rest of the belt pack system feature a more rigid construction that lets them conform to a number of roles that would be much more difficult with the Skin style of design. The Lens Changer 15 was my first foray into ThinkTank's standard belt pouches, and they're every bit as good, if not more so, than the Skin series. Designed for holding a small lens, and nothing else the Lens Changer 15 does an admirable job at it's task. The main compartment is big enough for most 50mm f/1.4s or a similar sized lens. If you were going to pack mirrorless lenses on a belt pack, pretty much everything but telephoto zooms would fit in the Lens Changer 15.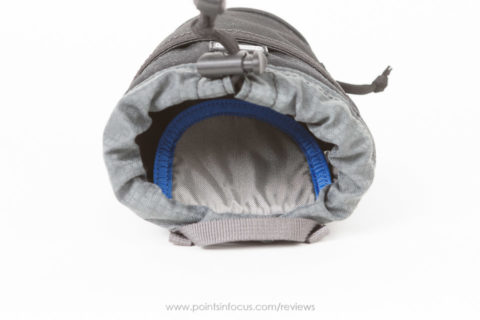 The top flap on the Lens Changer 15 is just a simple flap; there's no locking or closing mechanism. To secure the contents there's a draw string that closes off the top. Like the rest of ThinkTank's belt pouches, there's a removable seam-sealed rain cover that sores in a zippered pouch in the bottom. There's also a small stretch pocket that can be used to store a lens cap or some similar sized and shaped object.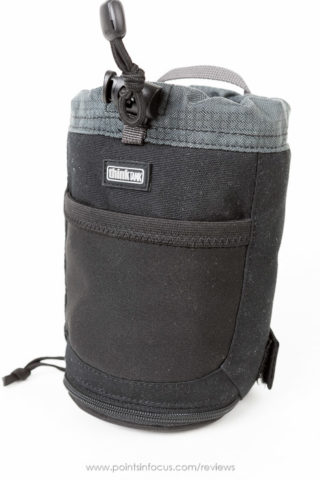 About the only real complaint I have with the Lens Changer 15, is that the main compartment isn't lined with a soft fabric — like micro fiber. ThinkTank does do this on their Lens Drop, which also has a better top cover for this kind of use. However, at 7.5 x 5.4 inches, the lens drop is an inch taller and 2 inches bigger in diameter (6.4" x 3.7") than the Lens Changer 15. For a 1.4x Teleconverter, personally that's more space than I was willing to give up on my belt.
Speed Changer V2.0
The final belt pack I have proper is the Speed Changer V2.0. The Speed changer is a much more generic pouch. It's big enough to fit a pro sized DLSR (with a grip, and a Really Right Stuff L plate), and that makes it big enough to be flexible in terms of configuration, which ThinkTank designed it to support. The main zippered compartment on the Speed Changer is a relatively spacious 7.5" x 6.7" x 3″ (150 in3 if you're interested). Both the front and back are lined with the fuzzy side of velcro, and for that the case comes with two adjustable dividers. Between the size and the configurable interior, the bag can also be readily used as the primary carrying case for a small mirrorless system. For example, my EOS M, 18–55, 22/2, and Speedight 90Ex strobe, all fit in the bag perfectly comfortably.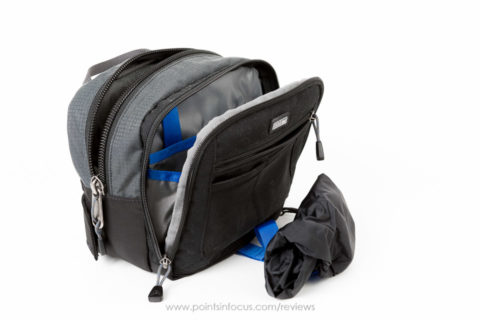 In addition to the main compartment there's enough room in this bag to include several secondary compartments. First, in just in front of the main compartment is a 3/4 zippered top-opening accessory compartment. Inside this compartment you'll find 3 full width divider panels, 2 elastic pockets (good for batteries or flash cards), and a key chain strap. On the outside front face, there's an additional full width and nearly full height zippered pocket. And finally there are two roughly 2/3rds height elastic pockets for storing things like lens or body caps.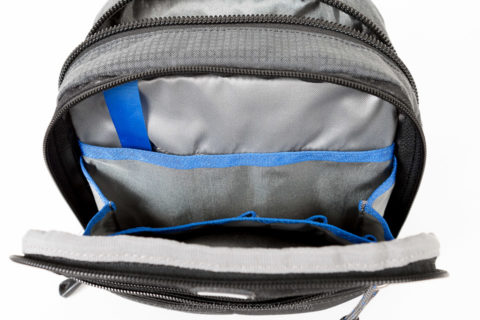 And of course, there's zippered bottom compartment to store the included detachable seam-sealed rain cover.
Little Stuff It!

When push comes to shove, there's not much to say about the Little Stuff It! It's a compact pouch for accessories that's designed to be a part of ThinkTank's belt system. There's a main zippered compartment, a front stretchy elastic pouch, and the zippered pocket of the seam sealed rain cover. The bigger question might be what's the point of this pouch then? ThinkTank's pictures show it being used as a case for a compact/point-and-shoot camera, or as a case for random accessories. I would add to that, that it also comfortably fits the Apple iPhone SE with room to spare. An iPhone 6s sized phone may also fit, but it might be a bit tight. Running with the idea of using it as an accessory pouch I started trying various random bits of gear to see how they fit. I've summed up my results to date in the following table.
Gear
Fits
Comments
Yes
No
77mm screw in filter in plastic case (B+W style)
X
1, possibly 2 fit
Apple iPhone SE
X
Room to spare
Better Beamer Flash extender
X
Plastic arms are too large
Black Rapid Sport Strap
X
Black Rapid Backpack Strap
X
Canon EOS M/M2
X
Canon EOS M/M2 w/ 22mm f/2 attached
X
Canon OC-E3 Off Camera Flash Cord
X
Canon Speedlite 90EX
X
Canon TC–80N3 Timer Release
X
Too tall
Canon/Nikon non-pro Battery Charger
X
Medium Rocket Blower w/ fins removed
X
Too tall
Normal sized bi-fold wallet (3.5 x 4.5 x 1.25 inches)
X
PocketWizard Flex TT5
X
Only one, no room for a second
Rode Video Mic Pro
X
Small HD DP4
X
ThinkTank 8 AA Battery Pouch w/ batts (4 AAs)
X
2, possibly 3 should fit.
ThinkTank Camara Strap
X
Probably 2 if they're folded well
ThinkTank Camera Support Straps
X
ThinkTank Pro DSLR Battery Pouch w/ batts (2 LP-E6 & 1 LP-E4)
X
Not Wide enough
X-Rite Color Checker Passport
X
Zoom H4n
X
Conclusions
Whether you use them stand alone or as part of a backpack setup, I've found a lot of utility in ThinkTank's belts, and belt packs. I've even used them completely on their own as either a mini-camera bag or just to tuck a flash in a secure pouch that was accessible and relatively intrusive. Like all camera bags though, the real challenge is finding the right balance and utility for any given task. Fortunately, one big advantage of these belt packs in that respect is that you can get just the components you need and not the stuff you don't care about. That said, ThinkTank does sell standard and skin collections for about 20% less than the total of the individual pieces too.