ThinkTank Hydrophobia 70-200 Review
15 min read
When I was planning my trip to Alaska in 2015, I knew that the strong potential existed for rain; even in early May. While Canon and Nikon advertise their highest end pro bodies and lenses as being weather sealed, and their next tier down as being mostly weather sealed, water ingress was not a risk I wanted to take. Compounding matters, lenses like the EF 100–400mm f/4.5–5.6L IS II USM, aren't fully weather sealed, and I knew that was going to be a big part of my shooting.
Thus, some extra rain protection would be needed.
Choosing who's rain cover to buy at the time was a foregone conclusion. Not because I'm a huge fan of ThinkTank products — which I am — but because there pretty much weren't any choices. In early 2015, when I was looking Kata was already mostly getting out of the market space. They still have some models, but they're mostly aimed at ENG and other video cameras and not so much DLSRs with mid-sized telephoto lenses.
OP/Tech USA made some super inexpensive clear, pretty much disposable, rain covers that could go on something like a 70–200/2.8. But they weren't quite what I was looking for either.
Peak Design hadn't even announced their Shell yet, so that wasn't even an option.
At the time, the only real option boiled down to ThinkTank's Hydrophobia 70–200 as the solution that would fit, provide the necessary coverage and reusability, and actually be available.
Now, with Peak Design's Shell, there's at least another option, but not having actually seen or used one in person, I have no idea how it compares.
Actually, there was a secondary benefit to getting a ThinkTank HydroPhobia; I wanted another one of their straps for my other body, and the Hydrophobia comes with one of their straps, which of course can be retrofitted to use Peak Design's Anchor Links. Of course, this isn't a good reason on its own, but for me at least, everything else being equal it would have been a point to push me towards ThinkTank — of course everything wasn't equal either.
In any event the question you have to ask yourself is what exactly are you looking for in your rain cover, and what kind of glass are you looking to use it with.
If you're looking for something small and light weight to keep in your bag in the even of unexpected rain; then something like OP/Tech's Rainsleeve thin plastic covers are going to be much more appropriate. If you're looking for something more rugged than just a plastic sleeve, but for more occasional or at least less demanding use, then the Peak Design Shell is probably a better bet. It's certainly more
On the other hand, if you're looking for something you can put on your camera and still continue to shoot with in all kinds of adverse conditions and still use your tripod or monopod, then the Hydrophobia is probably the best bet.
Packability
A camera rain coat is a lot like a person rain coat, in that it's inherently going to spend most of it's time in a drawer or your bag and not on your camera. Packing one is very much a considered choice as having it in your bag can mean not having room for a flash or another lens; at least that's potentially the problem with the Hydrophobia.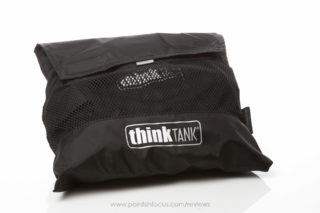 When push comes to shove the Hydrophobia is just not that small, especially if you're using the 300–600 on a big prime or f/4 telephoto zoom. Unlike OP/Tech's Rainsleeve, ThinkTank uses heavy duty waterproof fabric, and that just isn't as thin as lightweight plastic. At the same time, the Hydrophobia also has all the bells and whistles when it comes to usability and features, which also adds bulk.
Folded up and packed in the included soft case, the Hydrophobia 70–200 measures about 9" x 9" x 3.5″ (23 x 23 x 80 mm). It's not huge, but not small either, and of course being fabric it will compress down smaller if needed.
That said, in reviewing my Alaska trip packing plan images, I took the rain cover in my suitcase not in my camera bag. And trying to stuff it into my backpack at the time would have require removing a substantial amount of gear to make it fit.
Usability
Sealing out water and keeping the camera accessible are obviously diametrically opposed positions. The trick to a good rain cover is to do both, and that means making some concessions.
The Hydrophobia biggest "concession" is that it works like a roof not a submarine. There are several openings that point downwards that allow you to use it with a monopod, to reach in and access the camera's controls, but stop rain from getting to the camera.
That said, as with any rain cover, you do have to realize you will be giving up some easy access to various aspects of your camera.
For us Canon users, especially those of us with mid-tier (5D, 7D, 80D) class cameras this isn't that big of a deal, as the vast majority of the functions we might need to change are conveniently located on the right side of the camera — either on the rear or the top plate.
With a 1D the situation is a little worse. Drive and AF modes, metering mode, and flash exposure compensation are on the left of the top plate, and so are a bit hard to reach. However, most of these controls are less necessary to access quickly, and they can still be hit it's just harder. Also, since you can't use a flash with the Hydrophobia 70–200, flash exposure compensation isn't a factor at all.
Nikon users, may be in a bit more of a pickle. Newer Nikon bodies, like the D5, D500, D4[s], and D810 will be much like the Canon 1D series — the latter 2 only if they've had the movie record button remapped for ISO though. Older Nikon bodies, will be more impaired with most of major adjustments being on the top left side of the camera.
That said, I want to reiterate that I'm saying whether something is more or less accessible, not inaccessible. Though it's nowhere near as unimpeded as a naked camera, you can still get your left hand back up to the top left side of the camera.
Buttons on the rear left side of a camera, are a bit more problematic. There's a clear plastic panel that covers the rear of the camera so you can see the rear display and so forth while shooting, however, it's relatively inflexible and if the buttons on your camera are somewhat recessed they're quite hard to push. You can reach back, much the same as you would to get to the top plate, but there's not a lot of space around that edge, and to do it may require unzipping the zipper along the bottom. That of course will compromise some of the water protection along the bottom if you need to do that.
And of course, if your camera relies on a touch screen, that probably won't work through the plastic back panel.
The short of it, in my opinion at least, is that the usability of the Hydrophobia is entirely a non issue for taking pictures. However, reviewing images with the camera in the Hydrophobia is somewhat more cumbersome.
Water Resistance and Design
It would be hard to review a rain cover without talking about the overall water resistance and how it's impacted by the design.
As I said at the start, think of this more like a roof and less like a submarine. The Hydrophobia 70–200 is not a complete waterproof skin there are holes, as there is a direct necessity to be able to get your hands through it to work. All of this keeps your equipment dry, however, because when there are holes, the holes are made in a way to keep water out.
For example, the arm holes point down, so water running off the top of the camera simply drips off the cover instead of going into it.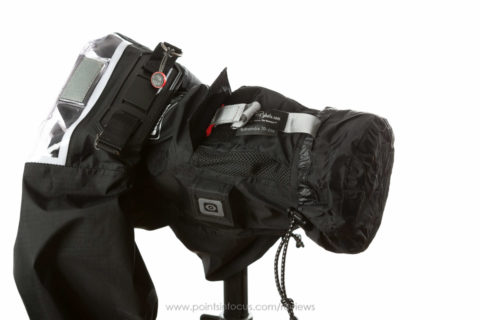 Material wise, ThinkTank says the cover is made from 210T seam-sealed rip-stop with a polyurethane film and 70D nylon tricot. In practice, the material is pretty hardy though it's not super thick like heavy canvas or similar would be.
Admittedly, I haven't dragged my hydrophobia though a rain forest with a lot of stuff that could scratch or damage the material, but I don't see it being a real concern for normal use.
The only real concerning point is the eye-piece. ThinkTank has chosen a design that's optimal for viewing clarity, as there is no glass or plastic in the eye-piece. The weather protection comes from a tight seal around the eye-piece, and the depth of the eyepiece to direct water around and away from the camera. Moreover, there's a velcro secured clear plastic flap that covers the eye-piece when things get really rainy.
| | |
| --- | --- |
| The rear of the Hydrophiba is all transparent plastic. To protect the camera, since water could get in through the eye-piece, there's a clear plastic cover (in place) that covers the opening. | The Hydrophobia uses a custom fitted eyecup that seals to thte tight rubber gasket. When not using the Hydrophobia a clear plastic cover velcros shut over the eye-cup. When you are shooting that clear plastic cover velcros to in the open position. |
Again, think roof not submarine. As long as the camera and rain cover are kept right side up, they preform just fine at keeping the camera dry.
One interesting idiosyncrasy with the HydroPhobia 70–200 is the way it deals with straps. Instead of trying to figure out how to make a weather proof hole in the top of the rain cover, ThinkTank has gone for a complete strap replacement instead. The strap you use to carry your camera when you've got the Hydrophobia on it is mounted to a pair of strap loops that are attached to the outside of the cover. To carry the weight of the camera, there's an adjustable loop that wraps around the base of the lens (near the camera) that holds everything up.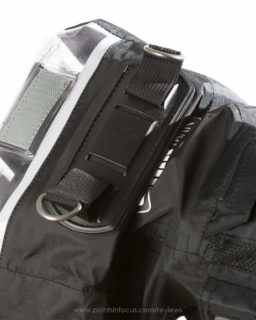 This solution provides a completely waterproof top cover, since there aren't any holes to worry about. However, it does mean that you can't use the cover with some lenses that have focus or zoom ring very close to the back of the lens.
Performance
I've only put my HydroPhobia 70–200 to the test once, in a really heavy Florida rainstorm. Needless to say it worked just fine.
Admittedly the storm and the test were such that I wasn't going to be shooting given just how hard it was raining. However, the included lens cover kept water out of the front where the lens is and the rear cover for the eye-piece kept water out of there too; exactly as it's supposed to.
Lens and Camera Fit
ThinkTank markets this as the HydroPhobia 70–200, however, it's sized such that it will fit many lenses of similar size. For example, ThinkTank calls out the Nikon 80–400 as a compatible lens.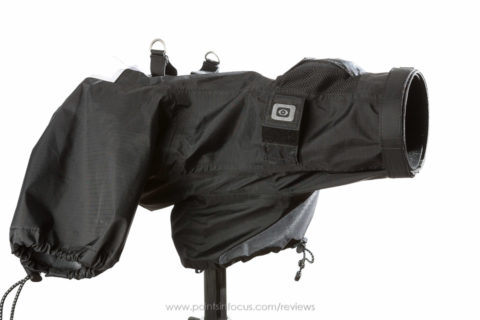 I've not tried mine on a Nikon 80–400, however, I have used it on a Canon 100–400mm f/4.5–5.6L IS II USM and it fits, but it's tight and there are a couple of caveats. Specifically you can't have a teleconverter on the lens, and you have to make sure that the front strap is tightened down well around the front of the lens hood to insure the cover doesn't slip back when zooming to 400 mm. If you don't completely cover the hood, you risk water being able to run in between the Hydrophobia and the lens hood and then back onto/into the lens.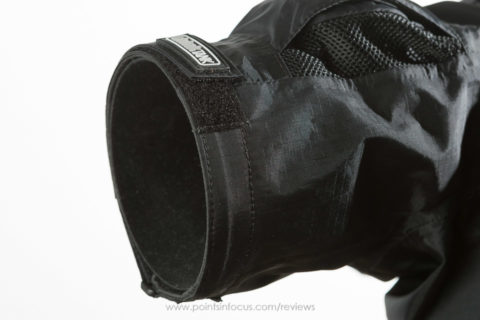 Okay so what about smaller lenses?
For smaller lenses there are two limiting factors. First, is the mounting system for the strap. As I mentioned if the lens has controls within an inch or so of the lens mount they'll probably be covered or blocked by the internal strap that's part of the complete strap system. The second issue is how much the front can be tightened down around the lens hood.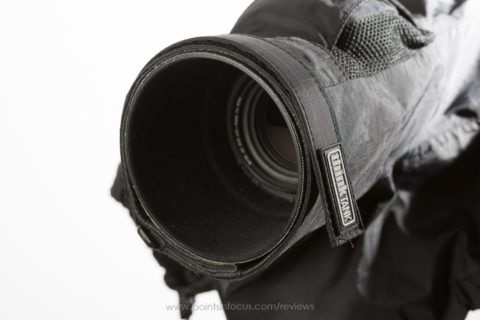 For example, my 70–200 is Canon's EF 70–200mm f/4L IS USM, not their f/2.8 versions. The outer diameter of the f/4's lens hood is 4″ (100 mm). This is the practical minimum for the diameter of a lens hood that the Hydrophobia 70–200 can accommodate. Any smaller, and you can't cinch the front strap down enough to keep the front of the rain cover in place properly.
Other lenses, like Canon's EF 24–105mm f/4L IS USM, 24–70mm f/2.8L USM II, EF 16–35mm f/2.8L USM II, or EF 16–35mm f/4L IS USM will be problematic due to the position of the zoom ring very close to the rear of the lens barrel.
Eye Pieces
The one possible negative point to the Hydrophobia is the eye-piece. Not because of any mechanical problem but because it's an extra cost, and because it's fitted to your camera, it's something that's going to be specific to whatever camera you use.
The latter part is potentially problematic if you have different series of cameras — for example a Canon 5D mark III and a Canon 70D — or when you have cumbersome to interchange eye-pieces like the screw on ones that Nikon uses on their higher end cameras.
The fit between the eye-piece and the surrounding material is very tight, so it's not something that's super easy to change in the field.
The other aspect of the custom eye-piece bit is that you have to remove the eye-cup that's on your camera too. Fortunately, ThinkTank has provided a pocket in the side of the Hydrophobia that you can stash the camera's eye-cup.
| | |
| --- | --- |
| Becuase the Hydrophobia uses it's own eye-cup, the one normally on your camera can be stowed in this pocket. | The eye-cup pocketed opened. The contained eye-cup is a Canon pro full frame sized one. |
Conclusions
So I guess the big question is what do I think about my Hydrophobia?
Honestly, I've never had the opportunity to really use it as much as I'd like. In my testing in very heavy rain, it preformed perfectly fine in terms of keeping water out.
My only real complaint might be that if you have a monopod attached to your camera, that makes the bottom access hole quite cramped. And if you're trying to use this with a tripod, especially if you have a fairly beefy ballhead, like a Really Right Stuff BH–55, you're a bit hosed.
Knowing what I know now would I have bought the Hydrophobia 70–200 again?
Yes, I would.