Black Rapid Backpack Strap Review
5 min read
The biggest problem with sling style camera straps is that they don't get along well with backpacks. While I'll easily say my Black Rapid Sport strap is becoming my go choice for a camera strap, the trouble is most of the time when I'm out in the field, I have a backpack on with my camera gear in it. Fortunately, Black Rapid recognized this problem and created their Backpack strap to address it.
As a note, before reading this review, I strongly suggest you read my Black Rapid Sport strap review as it covers all of the big picture points of Black Rapids sling straps, while this only covers the specifics that make the backpack differ from the Sport and other full Black Rapid straps.
Half a Strap — The Important Half
The first thing that stands out with the Black Rapid Backpack strap is that it's really only half a strap. Specifically, it's the slide and stop part of the regular Black Rapid straps, with hook connectors at either end. If it wasn't obvious from the name, the Backpack strap only works if you have it attached to a backpack.
If you're looking for something you can use when you take the backpack off, this isn't it.
Ergonomics and Camera Handling
In practice the ergonomics and camera handling of the Backpack strap are very similar to those of the regular black rapid strap. The biggest difference is that the Backpack strap relies on being attached to a backpack instead of being a free standing strap.
That said, there are a couple of points worth talking about.
First, when I hook my Backpack strap up, my two connection points are a d-ring on the top of my left shoulder strap, and the bottom webbing of my right strap. I've tried tying the bottom connection of the Backpack strap into either a waist belt, or a fixed point on the bottom side of my backpack and doing this makes it noticeably more difficult to use.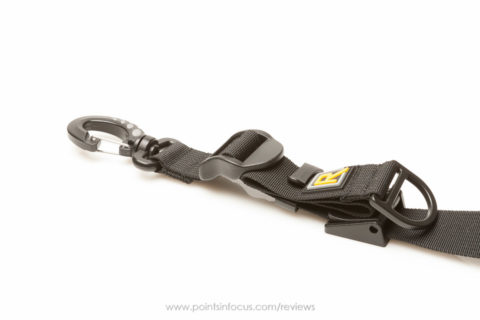 With the strap hooked to webbing of the shoulder strap, it will slide up under your arm when you lift the camera to you eye. This lets you keep the Backpack strap shorter, thus keeping the camera closer to your side and in easier reach, while still having enough strap to easily rotate from landscape to portrait when shooting.
The other points have to do with your backpack's shoulder harness and pads.
The minimum requirement is that your backpack's harness have a connection point on the shoulder pads. I have some ultra light weigh backpacks that I've used in the past for carrying a spare jacket or what not, that simply don't have attachment points rendering the whole situation moot.
Beyond that, you need a strap that has at least some mild padding as the clip is hard plastic and the weight of it holding a camera would cause it to dig into real thin straps. Though practically speaking, every backpack I've owned that meets the requirement of a mounting point also has thickly padded straps.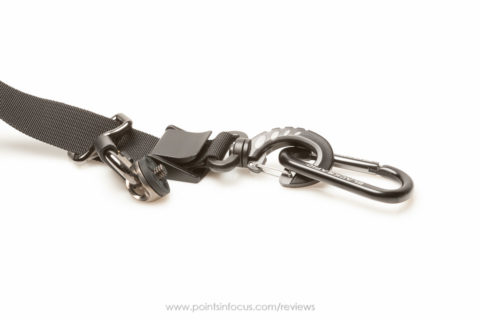 Cons, Hurdles, The Down Sides
The biggest potential downside of the BR Backpack strap is that it only works with a backpack. If you're like me and split your time between a backpack and not having a backpack, then you'll probably need another strap too — which is why I have both a sport and a backpack strap.
Fortunately though, Black Rapid doesn't charge full strap prices for the Backpack strap. They generally run about $30 instead of the $50 plus for the full straps. Though the combined cost of a regular strap and backpack strap isn't insignificant.
Conclusions
In my Sport strap review, I noted that there is no end all be all strap solution. Preferences and situations will dictate a lot of what works and doesn't for any given photographer. However, while I can call the Sport strap a generalist's tool, the Backpack strap is more specialized. You need a backpack to use this. In turn, that means this is really only a good investment if you frequently wear your backpack while shooting — as opposed to just carrying gear in it and unloading it at the location.
While I would say that the Sport Strap has become my goto camera strap. I can't say the same about the Backpack strap. It's certainly going to be heavily used, but not necessarily as heavily as the Sport simply because I don't always wear a backpack. That said, for the $30 it cost me in addition to the Sport, it was worth the money for me.