Storing your Camera Gear
5 min read
One of the big frustrations I always run into with camera stuff is the amount of little fiddly bits you end up with. Grip gear is especially aggravating to me since there's all the lovely little studs and adapters and various bits and pieces, to go along with the clunky odd shaped clamps and brackets. I thought for a long time about buying tackle boxes and doing something with that, but I had problems with that given that none of this stuff is really tackle sized.
Well, let me rewind a moment.
I keep most of my camera gear in a 26" rolling tool chest. Yes, the kind mechanics use. I actually used a camera bag on my desk until I got a really good deal on a Pixma Pro 9000 a couple of years back and needed to find a printer stand that could support a 26" wide printer. So not only does the tool cart serve as a printer stand, but it gives me a lot of drawers to put camera and printer stuff in.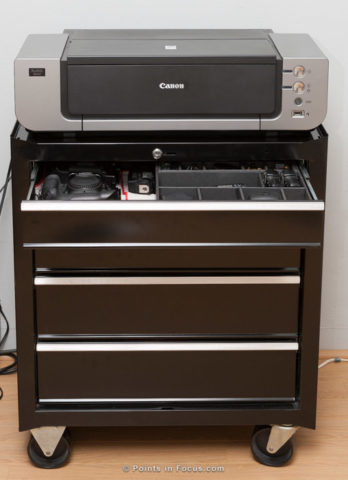 The trouble with tool chests is that they're not designed for photographers. Drawer size is a huge compromise with respect to wasted volume versus what you can fit in them. The shallowest ones tend to be about 2" deep. That's great for most grip gear and the ancillary stuff but not for much of anything else. Top chests sometimes will have a 3" deep drawers, which is really not any more useful than the 2" ones, it's just not deep enough for say a camera.
A 4" deep drawer is deep enough to fit a small format DSLR lying on its back or small lenses on their sides. 6" deep drawers are deep enough to put most small zooms standing on end, and not so overly deep that the large zooms are wasting a ton of space. They're also deep enough, in theory at least, for a 300/2.8, at 5" in diameter.
The trick is finding a tool chest with the right combination of drawer sizes. The trend for these kinds of rolling tool chests is to feature either a very few—like 2—really deep drawers (8" plus), or a lot of really shallow drawers (all 2" or 3" with a couple 4" on the bottom). What I really wanted was one or two shallow drawer for the little bits (shallow draws are volume efficient for small things) a 4" drawers for cameras (about the most volume efficient solution there as well), and the rest 6" drawers for lenses. What I ended up with was a compromise, 1- 4" drawer for the cameras, and 3- 6" drawers for everything else.
This brings us back to the little parts that get me so frustrated. The problem with the deep drawers is the whole volume lost for little parts. When you have a ton of stuff that's 1-2" tall, but odd shaped you can't really stack it in a pile in a 6" deep drawer. If I didn't have a printer to put on top, I'd probably consider putting a top chest on the base so I could sort out the little stuff. Alas, my printer is there so that's not really an option.
Instead, I built some foam board inserts that fit in the drawers that in turn have compartments and inserts that fit inside of them to give me multiple layers stacked on top of each other. More efficient use of the volume available, at least to some degree.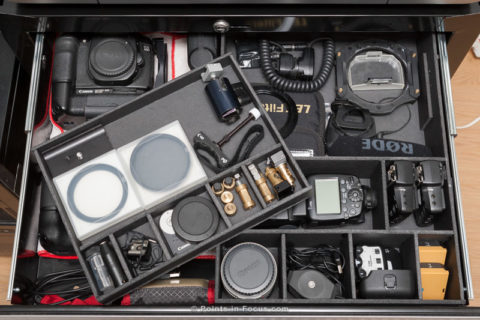 Foam core board isn't exactly the most rugged material, and frankly cutting it accurately with a razor blade and a straight edge is a serious pain in the butt. However, it's relatively cheap, and easy to put together with white glue, so it makes a good prototyping solution. And that's about what I consider these, a prototype. I will more than likely rebuild them in 1/8" plywood at some point in the future, at which point I'll probably put up something more detailed about designing and building them. I already have a couple of ideas for ways I'd like to improve the inserts.
I'm not sure this is the end-all-be-all route to storing camera gear. Of the photographers I know, I'm the only one who's gone with a mechanics style tool chest to store their camera gear. Knowing what I know now, I'd probably go the same way if I had to do it all over–maybe with a bit better quality chest though.