Back in May, I went on an Alaska cruise. Admittedly it wasn't a photography oriented cruise, but it was Alaska, and I had my camera which was good enough for me. Our first port of call was Ketchikan, Alaska, and from there was a short floatplane excursion over to Misty Fjords National Monument in the Tongass National Forrest.
For those who've never done this, my understanding of the operation is that the float planes fly from the port in Ketchikan out into the Misty Fjord National Monument, and land on one of a number of lakes. Exactly which lake, appears to depend on which lakes already have a plane landed on it, the range and speed of the planes in question, and the weather conditions at any various lake.
On the day I was there, the weather was extremely good, and we were the first plane in the air (at least as far as I know), ultimately resulting in our plane touching down on Big Goat Lake. Big Goat lake is a high mountain lake, with a surface level at about 1800 feet, and a depth around 800 feet. Or put another way, it's a long way to the bottom to get your camera back if you drop it.
While I was in Alaska, I jumped at any opportunities I could get to get up in a small plane or helicopter. As a photographer, getting into the air is one of the best ways to find a different angle to set your work apart.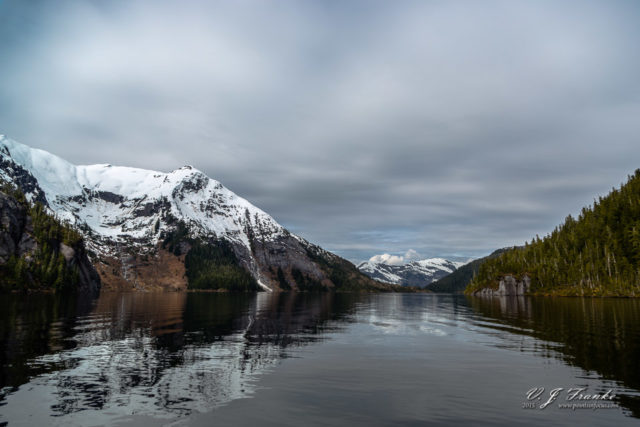 Of course there is one caveat to that, to get really good images one needs to be not be shooting through glass or plexi windows, and that's not what you're going to be doing when you're flying on a cruise ship driven excursion. If you're really serious about this, you need to charter a plane or helicopter, be harnessed in and take the door off. Only then can you insure that your images won't be ruined by the window you're shooting through.
That said, just getting aloft provides an amazing perspective on the Alaskan wilderness, even if you're not photographing it.
Needless to say, there was little of value in the few images I shot on the flight, and in many respects I think I would have been better off not shooting at all and simply enjoying the flight.
On the other hand, once we got to the lake, we had the opportunity to get out and stand on the floats, and take pictures or just take in the sites. Which is where I mad the two images in this post.
Shooting from the floats was also an interesting challenge. There isn't much in the way of standing space, and like I said, it's a long way to the bottom of the lake. Never mind, even though there's non-slip coatings over almost every surface you can stand on, it's still wet from the landing and still somewhat slippery even if it's mostly in your head. Suffice to say having a heavy pro camera and zoom lens while holding on to the wing strut and trying to compose and focus an image is an interesting experience that everyone should try once.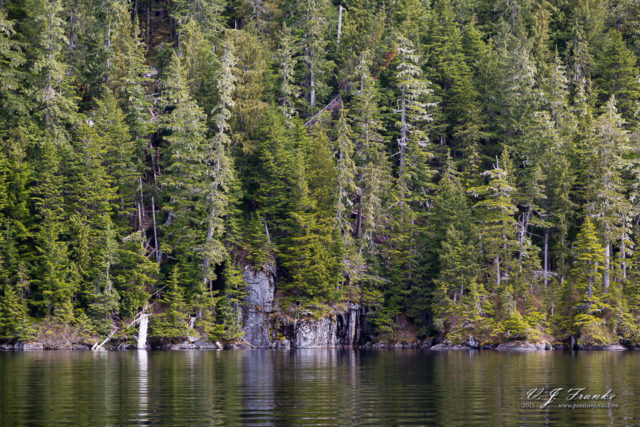 I couldn't write about an experience like this without at least giving a cursory thought to what I'd do differently if I did it again. My biggest complaint was the quality of the lens I brought, and I'd really would have liked to have had something considerably better, especially in the corners. Something like the EF 24–70mm f/2.8L II USM would have been a great choice in the image quality department. I had considered the viability of a prime while I was considering this, however, in looking at the metadata for the images I shot, I'm all over the zoom range from 24mm to 105mm. So while a 50mm f/1.8 or 24mm f/2.8 would have been a much lighter option, it wouldn't have been nearly as flexible.
What I probably would have changed was the strap I had. I was using my ThinkTank camera straps, which I really like for pretty much everything. However, they're not quite long enough to wear across one's chest and over a shoulder. Getting in and out of the plane somewhat necessitated having the camera behind me, and I could do that with the strap I had, but getting it into position to shoot required some serious adjustment while out on the float. In some ways I think something like a Black Rapid might have been a better solution strap wise.
In any event, getting up in the air and especially down on the lake netted two of my favorite pictures from my trip to Alaska.