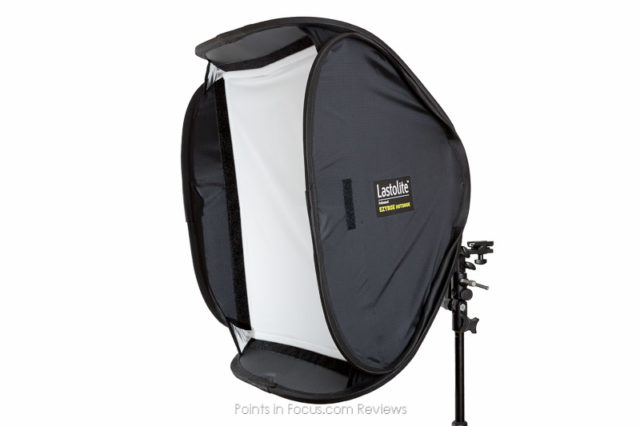 Softboxes have long been the light shaping tool of choice for serious photographers, at least in the studio. With their verity of sizes, and great control over spill they make it easy to shape light without having to go through the hoops of individually flagging spill. Unfortunately, most softboxes aren't what you'd call portable, or easy to assemble. Enter Lastolite's EzyBox Hotshoe.
Build Quality
Instead of the traditional approach of rods emanating from a speed ring covered by the box's fabric, the EzyBox uses fixed frames sewn in the sides to form the box. On the up side, the skin of the box is a single piece that folds into a triangle for storage.
Lastolite offers the EzyBox Hotshoe in 3 sizes, 15-, 24- and 30-inch squares. The standard ones are silvered on the inside of the box, though the Joe McNally edition uses an all-white interior instead. All variants provide double diffusion with an inner and outer layer.
So far, I've found little to complain about in the build quality of the box. There are no obvious stitching issues. The material, rip stop nylon, is thin and light but doesn't feel low quality and has no obvious light leaks.
The diffusion panels don't have any noticeable issues, neither are ripstop, but the edges are completely hemmed so they shouldn't rip anyway. Even the plastic speedring bracket feels solid enough that I'm not at all concerned about it.
EzyBox Setup
In the broad strokes:
Put the coldshoe/speedring adapter on your light stand
Unfold and attach the box
Velcro in the diffusion material
Attach your flash
Shoot
All told, the process takes maybe a minute. That said, as nice as the process is, there are a couple of gotcha's I've found in the setup depending on how you run things.
First, the hotshoe/speedring adapter doesn't have a pivot. The attachment on the bottom is a 5/8" spigot like you'd find on a umbrella bracket. Lastolite sells a tilt head spigot (part LA2401) that you can use to get tilt capabilities, or you can use any standard umbrella brackets so long as you have a double ended stud (something like this) to put in the end of your umbrella bracket. Alternatively, you cobble something together, I'm using a 3/8-16 bold and a couple of nuts into the bottom of an unused female stud that came with my Manfortto umbrella bracket.
The second issue I've found is much more specific to my setup.
I use Control TL Pocketwizards for my wireless flash shooting, moreover, I use them paired with these (RRS QR system). Ideally, I'd just mount a QR clamp to the bracket in lieu of the cold shoe Lastolite provides. Unfortunately, the coldshoe isn't attached with a 1/4-20 screw, which makes simply bolting a Really Right Stuff Snap QR mount in its place somewhat frustrating—you'd also lose the indexed rotation of the cold shoe as well since that's achieved as part of the piece itself.
The bigger issue is that the 1/4-20 socket on the FlexTT5s isn't lined up under the flash head. This puts the whole arrangement off center. In fact, the only real workable way to mount a  flash on a FlexTT5 to EzyBox Hotshoe is with the flash head rotated 180° backwards and the Flex TT5 mounted via it's hot shoe to the Lastolite coldshoe.
Of the latter, none of that is Lastolite's fault but it is something to be aware of if you use a setup similar to me.
Quality of Light
Prior to moving to the EzyBox Hotshoe my standard source for diffused light was an F.J. Westcott 42" double-fold shoot-though umbrella.
Subjectively, I feel the images I'm getting from my 24-inch EzyBox are just as good as what I was getting from my 42-inch double fold shoot though umbrella. Though in practice it's not a 1-to-1 compassion, and I use the EzyBox differently than I use the umbrella.
The above 3 sample images were shot with the light source approximately 3.5-feet from the sculpture–which incidentally is approximately life sized. The composition varies slightly as I was shooting these handheld. In terms of quality the 24-inch EzyBox falls between the very diffuse shadows of the larger umbrella and the very hard shadows of the bare speed light.
For the sake of fairness, I'm working in a relatively limited area with a white ceiling and light colored walls. By which, what I'm trying to say is that the umbrella has a significantly larger amount of spill than the EzyBox does, which means some of the shadows are going to be filled in with light bouncing from every other white surface in the room.
The second set of sample images demonstrate the difference in the quality of highlight reflections. Of course this would be obvious to anybody who's used a softbox instead of umbrellas, but I thought it was worth including since I was shooting the various test scenes anyway.
Adapting as a Video Light
The size and ease of setup for the EzyBox Hotshoe raises an interesting question as to whether the light can be adapted to be used as a video light. In a pinch, it'll work, but if video is a significant factor you'll want to look somewhere else—maybe the Lastolite EzyBox Studio or EzyBox II.
The rear of the box is tight, so there's only really enough room to mount a single CFL lamp in a socket; which you'll have to cobble together yourself anyway. Moreover, with 50- and 85-watt CFLs approaching 9-inches in length there's no room for the internal diffusion panel, so you'll have more of a hot spot. Finally, there's the question of heat discoloring the materials over time. I inquired with Lastolite about this, but didn't get a real firm answer either way. Personally, I don't think heat should be an issue with a 50- or 85-watt CLF, or something LED based, but you probably don't want to stick a 250W tungsten lamp in there.
Accessories for the EzyBox Hotshoe
Lastolite offers fabric grids as well as a set of 3 masks (narrow rectangle, medium rectangle, and circle) that can be used to mask off the front of the Ezybox to control the light. Those options are avaible for all 3 sizes. In addition, for the 24-inch box there is a mask strips attachment that can be used to make a horizontal-blinds like effect.
All the light shaping attachments Velcro to the wide Velcro lining the front diffusion panel attaches to.
In Review
In my experience, there aren't many offerings in the softbox for a hotshoe flash market. In fact, the only other option that really comes to mind is Profoto's RFI line of softboxes. However, the RFI softboxes don't use the internal frame/fold up design the Lastolite EzyBox does, making them, for me at least, a little less attractive.
The other alternative is an umbrella or a brollybox (based on an umbrella) both of which have the same issues as an umbrella when it comes to reflective surfaces.
At $150, $190, and $225 for the 15-, 24-, and 30-inch kits they're priced decently as well—they're certainly cheap enough that I find them more cost effective than trying to DiY something of similar quality.
Leave a Reply
Comments are moderated. Abusive, inflamatory, and/or "troll" posts will not be poasted. If your comment doesn't show up, it may have been blocked by the spam filters, sorry.
Follow me on twitter for updates on when new comments and articles are posted.